iPhone app designers often have an eye for style – it's an industry where a Steve Jobs inspired obsessive attention to detail and minimalism is prized. This is often shown not just in the app itself, but in the marketing landing page used to advertise it.
An iPhone App Landing Pages has a few functions to carry out – it needs to succinctly describe what the app does, it needs to show what it looks like when it's in use and (unless it's self-evident) it needs to show some of the benefits for downloading and trying it out. To appeal to iPhone users – who, thanks to the beautifully designed device they're using, usually prize well designed, intuitive apps on their phone – the marketing landing page can also benefit from fitting in with that clean, well designed style.
We've brought together a showcase of beautifully designed iPhone App Landing Pages that get the message across without adding too much unnecessary information, and without being cluttered. Hopefully you'll find them a useful source of inspiration for your next design project.
Beautiful iPhone App Landing Pages
Sign up for free updates
No Spam Guarantee
5. LocalHero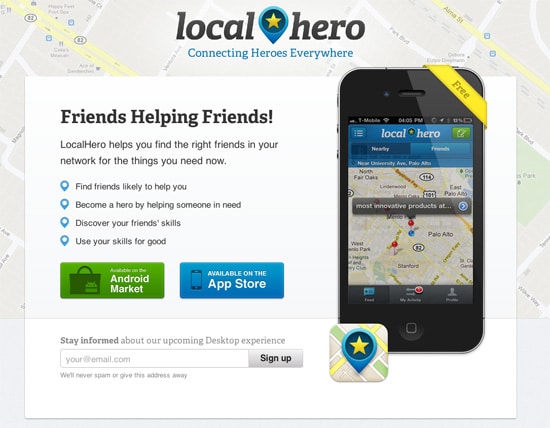 Are there any iPhone App Landing Pages that you've found that deserve a mention? Let us know in the comments.
Author – Alex writes for Print Express, who specialise in high quality business cards, posters & flyers. In his spare time he studies graphic and web design and aims to improve his Photoshop skills.