The present age can be referred as an age of data or rather "Big Data". Today enormous amount of data is being created each day. Almost 1.5 billion pieces of content and nearly 2 million videos are being created in a single day accompanied with 140 million tweets every day. This is really Big Data. Our knowledge world has grown in size thanks to the huge popularity of the internet.
However, in the midst of ocean of data surrounding our lives, people look forward to content or data that are interesting, easy to comprehend, and appealing. They like to read content which is easy to understand and moreover is visually enriching. Given a choice they would prefer to read visual or graphical based data rather than text based data. With the growing popularity of internet the importance of visual based data has increased many folds.
Such type of data is more popularly known as Infographics.
Infographics or Information graphics is a visual representation of data using a combination of visual elements such as graphs, charts, pictures, images, designs together with best of textual information, as well.
Statistics reveal that most of the people are visual learners and so appreciate Infographics more than any other type of content.
So if you are a webmaster, blogger or have taken upto content marketing in an aggressive way then you should incorporate infographics in your scheme of things. As a matter of fact, you can connect to your visitors in a better way by using infographics. You can increase your users' engagement by presenting to them data in the form of infographics.
Here under I have come up with a vivid explanation about infographics, its benefits and how to create infographics so that you get to know all the aspects that are related to infographics and are able to use them as an effective means of communication with your visitors, prospects, or customers.
What are Infographics?
Infographics or Information graphics are visual representations of data, information or knowledge. They combine graphics and text to present data to the readers in a visually attractive manner. They employ various design elements such as graphs, charts, diagrams, images, and pictures so as that even complex content and messages are easily comprehended and understood by the viewers. An ideal infographics is an intelligent mix of design elements, writing and analysis which enables it to stand out in the midst of ocean of data.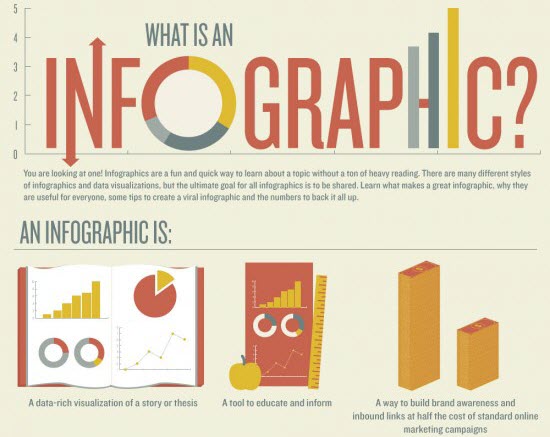 Infographics presents information to the viewers using text, images and design elements, which is instantly understood and liked by the users. The key highlight of infographics is its visual format. Infographics can be regarded as visually compelling communication medium because of its data visualization and rich design elements. Infographics are visually appealing and hence keeps people interest alive. They also provide key takeaways for the readers. Infographics can be used in blogs, presentations, research content, in the newsletter and as well as in annual reports.
Benefits of using Infographics
1. Attractive and attention grabbers
As infographics employ graphics, charts, diagrams, and other design elements, and show up facts, figures, and statistics along with text they make an awesome piece of addictive content which are instantly liked by the viewers. They are attractive and are seen as attention grabbers.
2. Can be Easily scanned and viewed
For human beings, it is easy to tap visual information. Infographics incorporate various visual elements in them, making it easy for people to scan and view infographics.
3. Infographics are viral Magnets
In contrast to text based content, Infographics are highly attractive and so have the inherent capacity to be easily shared on social networking sites. This magnifies their chances of being viral.
4. Increases Brand Awareness
Infographics can be used (as a medium) to increase your brand awareness. You have to embed your logo and website address in infographics so as to increase your brand awareness.
5. Enhances your SEO Efforts
Due to the viral nature of Infographics more and more people link to your website thereby giving you an opportunity to rank your website high on search engine result's page.
6. Increases Traffic Flow
An attractive and compelling Infographic that is highly shared and linked backed helps to drive traffic to your blog or website.
7. Infographic position you as an Expert
A well researched and nicely crafted Infographic reveals your knowledge and establishes you as an expert in a subject.
How to Create Infographics?
The biggest challenge comes in the form of creating compelling and attractive Infographics.
However, there are various ways in which you can accomplish this job.
One of the primitive methods of creating Infographics is by using simple everyday tools like pencils, markers, graph paper, and rulers.
You can also use computer illustration software like Adobe Illustrator for creating Infographics.
Then there are various specialized tools and websites for creating Infographics. These tools provide pre-designed templates, and you can add your custom data to produce attractive infographics.
Then there are various online infographics design services such as InfoGraphic Design Team which offer custom infographics design and data visualization services.
You can even hire professional and experienced graphic designer to design attractive Infographics according to your concept.
Conclusion
So you see that Infographics can be a powerful medium for driving traffic to your blog or website. As Infographics are visually based content employing a mix of design elements, texts and analysis, so it gains high capacity for gaining and holding on to viewers' engagement. Users prefer viewing Infographics rather than text based content as Infographics are easy to comprehend, interesting and attractive, as well. I have shown some of the prominent benefits and reasons for using Infographics in Content Marketing and have adequately described the different methods of creating a compelling and attractive Infographics.