Building a successful business requires a lot of effort. It requires you to be proactive and shoulder every responsibility that comes your way.
Whether it is the product, production, marketing or representing your brand, everything needs to be top-notch.
After all, you need to take on the competition in the best possible way.
In this context, a business card has a very important role to play. It is not only used to represent the information on the product or service that your business provides, but it also is an ambassador for your business. It is used to provide your name and phone number to the clients.
A business card distinguishes your business from the rest.
So, it has to unique, creative, beautiful and colorful.
Moreover, a business card needs to be efficient to carry around.
All these aspects of a business card require you to choose the best business card design for your company or brand that aptly fulfills your requirements and aspirations.
Choosing a business card design for your company can be a tough job especially if you are looking for a unique one.
That's the reason which prompted us to come up with this awesome post featuring free business card templates that give you an ample choice of best business card designs available over the Internet.
We have trimmed your effort, as we have compiled these free PSD business card templates. These business card designs are in PSD and are available for download. They are fully editable so that you can edit them according to your business needs.
The bright and vivid colors of these business cards make them an ideal choice for any businessperson. Use these cool free business card templates to showcase your business information in the best possible way to your customers or prospective clients.
You can edit these free business card templates by changing company name and address. Here are few free business card templates listed below which you can use for your business.
25 Beautiful Business Card Templates (PSD)
1. The Zigzag Design
This business card template features a unique vertical design with creative zigzag patterns and large contact icons. It provides a perfectly clean and eye catching layout.
It is a double-sided horizontal business card with both rounded and square corners. It is created in a CMYK color mode with a 300dpi High Resolution. Plus, you can choose from six different colors.
3. Carbon Business Card Template
This ultra cool carbon business card is perfect for any company. It comes in 300dpi resolution and PSD format. Download it now and impress your clients.
4. Vintage Business Card Template
This classic black & white vintage business card template would be the perfect pick for you. It's faded look, and a matching old-world typography goes on to create a perfect realistic effect.
5. Photographer Business Card Template
This business card template is perfectly suitable for photographers as it brings a subtle elegance of a minimalist style statement. It is easily editable.
6. Stylish Orange Accent Business Card Template
This business card template is a stylishly designed, orange accent business card aptly suitable for the corporate world. It has an awe-inspiring design employing finest design elements.
7. Minimal Creative Business Card Template
This business card template has a minimalist style statement with green being its major shade. It has a neat & clean layout and has cute icons for contact details.
8. Dark Minimal Typography Business Card Template
Together with its modern design, this business card template has a clean and simple typography. The dark background makes the content stand out looking crisp and sharp effortlessly.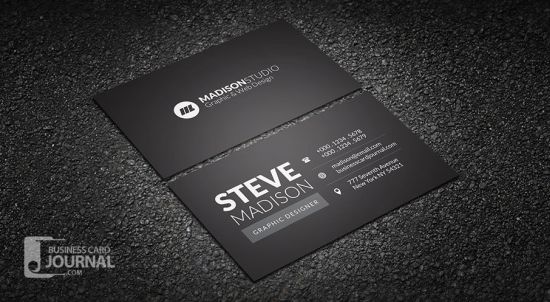 9. Simple & Clean Creative Business Card Template
This business card design employs appealing color blends and has a touch of minimalism. Its simple layout makes it suitable beyond corporate business.
10. Multi-color Business Card Template
If you prefer a vibrant business card, then this amazingly colorful design will certainly impress you. It has a neatly aligned and an organized layout. The placement of icons and a multi-colored layout are the highlights of this meticulously crafted business card template.
11. Refreshing Lime Green Business Card Template
It's a refreshing lime green and white business card template. With simple and elegant design elements, the template becomes suitable for most types of business industries such as corporate and personal profile cards.
12. Flat Design Business Card Template
This business card template implements the flat concept with the long shadow which is simple yet impactful.
This Horster offering is a brilliant execution from American-based designer Pixeden who is credited with a wide range of free business card templates.
This business card template comes with a custom playing cards theme. The design measures at 3.5x2in.
Available in Vector file format, this retro business card template is fully customizable allowing changes in layout, font, and color to suit your preferred style.
16. Color Stripped Business Cards
This business card template has an elegant design with a splash of color. The size is 3.5x2in with a resolution of 400 dpi and a PSD format.
It is a sleek and sophisticated business card template. Suitable for designers who want to keep things simple while still want to make an impact.
This business card template has an attractive vintage look. It is fully editable regarding text and graphics.
It is an elegantly designed business card template having chocolate colored texture. It is suitable for both personal and business use.
20. Wooden Business Card
It is a stylish business card template with a wooden texture.
It is a beautiful and cleanly designed business card template. This biz card template comes with front and back cover design.
This business card template has a futuristic graphic design. It has an abstract shiny crystals background.
This free molten chocolate business card template is highly suitable for graphic designers, photographers, and creatives who want to have a unique business card.
24. Royal Business Card Design
It's a beautifully designed business card template aptly suitable for connecting with a wide market of consumers.
It's a simple and elegantly designed business card template.
Hope you liked these free Business Card Templates. It will help you to design your business card easily.