A tattoo is a form of art which is inscribed over the body. Tattoo is getting very common among the youth. They are the latest trend every youth want to have one of the tattoo inscribed over his body to describe his personality.
Tattoo is of both types permanent and temporary. Temporary tattoo is made using design print and color over the skin which last for 10 to 15 days whereas, the permanent Tattoo are made by inserting permanent ink into the dermis layer of the skin to modify the color.
Now, both types of tattoo making places are all over the world. Tattoo making has been a career now many people wants to make out there career in tattoo making.
There is countless number of tattoo designs in the market. People make out tattoo which suits out there personality like girls try out cute tattoos; boys try out sensational tattoo, which suits their personality.
There is no limit to place and the number of tattoo that a person wanted to have. Youth have explored a lot in terms of tattoos as they have tattoo on their arms, wrist, back, legs, knees, stomach, tongue, ankle and more.
Some of the youth have scribbled tattoo all over their body.
Today we have collected Inspiring Tattoo Ideas which you can use if you need one. Have tried to collect tattoo that are in trend and tried to cover all the parts where you can have a tattoo.
Have a look at them and decide the one you need. All the tattoo design is very inspiring. You can have design as well as a text as a tattoo.
Hope you all are going to like these Inspiring Tattoo Design Ideas. We will wait for your response.
35 Inspiring Tattoo Design Ideas
He Walks With Me
Feet Matching Tattoo
My Tattoo
Bird Unfolding. close up
Love Is All
tattoo
Hand Tattoo
Skin Tattoo
Kiddotattoo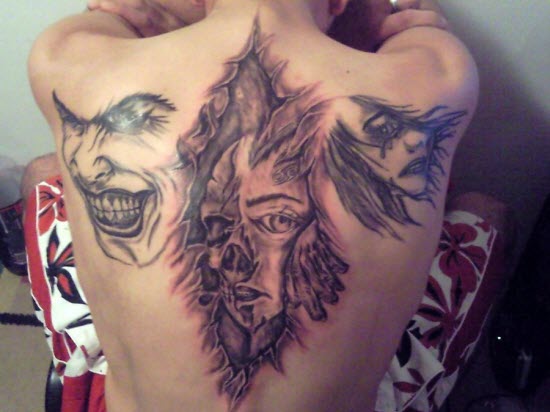 Kiddotattoo
Creepy Tattoo Idea
Cat Tattoo
i love him/her
Phoenix
Vintage Harley
Cover Up
Octopus tattoo

Octopus tattoo
HotWheeler
Thug Life
Colibri
Daisy flowers with initial I
hoode215
Tattoo
Flower sleeve tattoo

Flower sleeve tattoo
Sisters
-Bright Eyes

-Bright Eyes
Mucha tattoo
Sleeve tattoo, leg tattoo
Music To My Ear

Music To My Ear
Türkiye Yo!
ear tattoo

ear tattoo
Sugar Skull Tattoo

Sugar Skull Tattoo
Lower Back Tattoo
Money Butterfly Tattoo
Tribal Belly Tattoo
Lion Carv Man

Lion Carv Man