It's a great idea to add a forum to your website. In fact, Internet forums have come a long way and prove an effective medium for keeping your audience engaged. People come to forums looking for solutions.
So, Internet forums are helpful in building community and visitors keep coming back to your website again and again.
There are many popular forum sites with thousands of member. These forums are filled with lots of useful information. Some of the popular forums are Sitepoint, DigitalPoint, etc.
If you are also looking to start your forum site, then you need forum script or forum software. Here, we go on to list 10 Best Forum Scripts. We have also included PHP forum scripts. We have listed both Best Free Forum Software as well as paid forum scripts.
About Internet Forums
Internet forum, bulletin board or message board is a place where you can start a discussion with many other users.
It's an online discussion site where people hold discussions or conversions in the form of posted messages.
They differ from chat rooms in the sense that messages on Internet forums are often longer than one line text and are temporarily archived.
Forum messages are not removed like chat, and any forum member can reply to your messages anytime, and you can also see them anytime.
Moreover, messages posted on Internet forums may have to be approved by a moderator before they get visible.
A single conversation on an Internet forum is often referred as a "thread," or "topic." Each new discussion started is known as a thread and can be replied by a number of people. So, many people can participate in a discussion on an Internet Forum.
Each forum contains a number of sub-forums, and each sub-forum can have several topics.
Typically, users need to register with a forum and then login to post messages. However, users don't need to log in for reading existing messages.
Adding Forums is helpful in more than one ways.
It provides a platform where readers can interact with each other. Internet Forums help you to answer readers' questions quickly. By adding forums to your site, you can respond to many readers at one time. It builds community among your site visitors. It also helps to attract new readers.
The Internet forums are hugely successful with a large community of online users. They offer helpful tips, expert advice, and answer users' questions effectively.
So, if you are interested in setting up your Internet forum, you need to pick up forum software.
Here, you will find Best Forum Software and can easily go on to select the one that best suits your needs.
For starting a lightweight and easy to use an online forum, you can use the free and open source platform like phpBB. Here, we have listed Best PHP Forum Scripts as well as free forum software.
However, if you want to set up a big forum site like Digital Forum or 4Chain, and then a feature-rich and powerful solution like vBulletin, will best serve your purpose.
It becomes easy to start a forum and run it on your own by using online forum software solution.
Once you have added your online forum to your website, it's time to roll out the word that your forum is available for discussion.
You can do this by using your mailing list. You can have social media posts about the forum and a link to it. You can participate in other online forums and post a link to your online forum.
You can even invite experts to speak in a thread. You can guest blog on sites to reach your target audience and let them know about your online forum. You can even contact your regular commenters who have commented on your blog or social media profiles.
All in all, online forums prove a valuable platform for engaging your visitors. They provide an opportunity for your users to interact with each other. However, you need to have enough traffic for sustaining a conversation.
So, now let's see the Ten Best Forum Software.
10 Best Forum Software
XenForo is a leading PHP forum software package that has been written in the PHP programming language. It has been developed by a team led by former vBulletin lead developers.
It is paid forum software and has many inbuilt SEO features, powerful add-ons, recent activity stream, social engagement functionalities, and lots more. It is a great forum script for the daily routine of forum postings and managing.
Price: Paid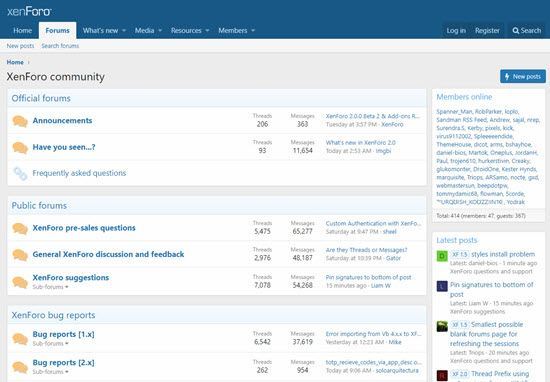 vBulletin or vB is one of the best premium online forum scripts. It's the number one choice of many big websites using forums that have made vBulletin their first preference. It is studded with many great features such as discussion and forum, groups, photo albums, calendar, events and tasks management, polls, blog sites, and more.
It provides three version options for you to choose: publishing suite, forum classic and mobile suite. They come in different costing, depending on your needs. With vBulletin, it becomes easy for every publisher to grab their audience. It is a must for professional forum need.
Price: Paid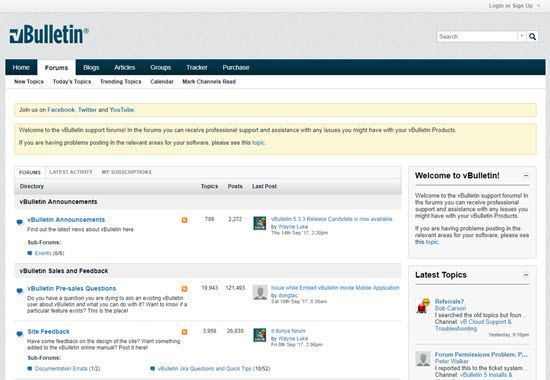 Invision Power Board or IP. Board is a reliable and dependable forum software solution that enables you to have an engaging discussion forum on the web. IP. Board is a premium forum software solution.
It offers a comprehensive set of tools and enables users to discuss effortlessly by providing a fast and reliable online forum platform. It also enables users to share and promote content on your website.
IP. Board is highly configurable allowing site owners and administrators to set it up precisely according to their needs. All in all, IP. Board helps to build great communities on the web.
Price: Paid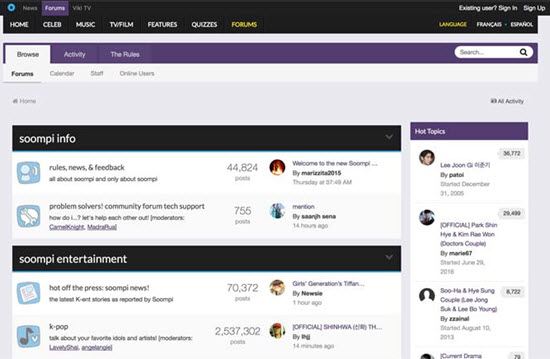 phpBB is one of the most popular free and open source forum bulletin board scripts. It can be used to power your entire website or can be used to stay in touch with a group of people. It provides hundreds of style and image packages to customize your board.
In fact, phpBB is an open source PHP forum script which has been written in PHP scripting language and uses MySQL database. It is very easy to install and provides easy to use admin control panel.
PhpBB has a wide development community which can help you deal with any issue. It provides lots of themes which can be used free of cost. PhpBB fulfills all your requirements for having a powerful online forum site.
Price: Free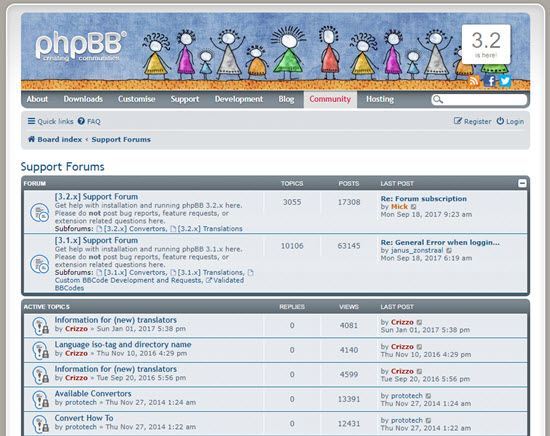 Simple Machines Forum is a powerful and free forum software package that enables you to set up your own online community within minutes. It is written in PHP and uses MySQL database. It has been studded with all the features that you need on a bulletin board.
It's custom made template engine provides full control on the layout of your message board. It can be integrated with content management systems such as XOOPS, Mambo, etc. It also supports plugins.
Price: Free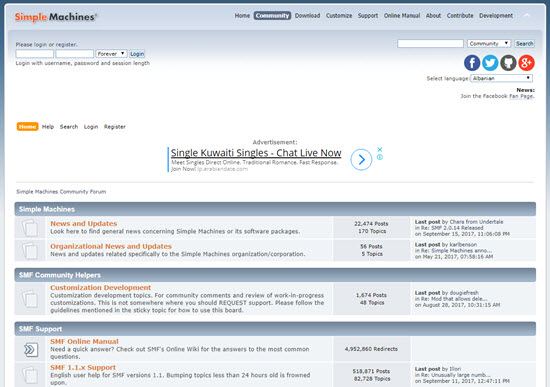 If you are known to WordPress, then you must be knowing bbPress by the creator of WordPress. It lets you setup discussion forums inside your WordPress.ord powered site. Backed by the powerful development team and good support can make anyone choose bbPress.
If you are looking to integrate WordPress and forum software, then bbPress can be your first choice. It is a powerful forum script which must be considered while choosing forum software. Its main highlight is the ease of integration, ease of use, web standards, and speed.
Price: Free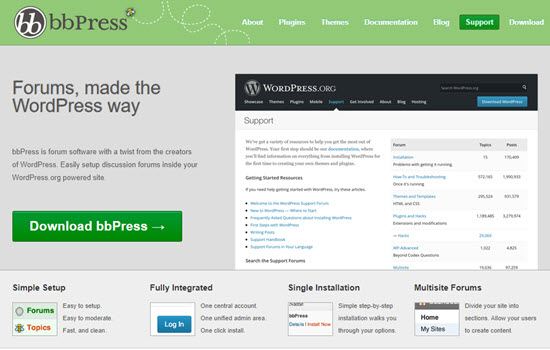 Vanilla Forums is a powerful forum software solution. It provides hosted and open source community forum software to power discussion forums. It is flexible and easy to use. Vanilla comes as a community supported multilingual forum script.
It provides both hosted and self-hosted option. With Vanilla, you can create a customized community that rewards positive participation.
Price: Free and Paid (monthly subscription based)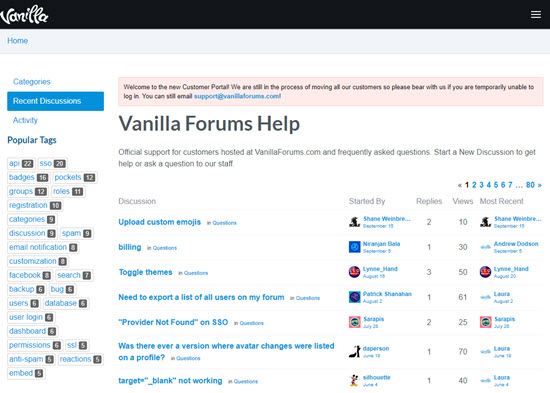 MyBB is one of the best free PHP forum script. It provides an intuitive discussion board structure so that visitors can easily participate in discussions and markup their posts.
MyBB is studded with inline editing and moderation features which allow forum administrators and moderators to control discussions and keep the forum tidy.
Price: Free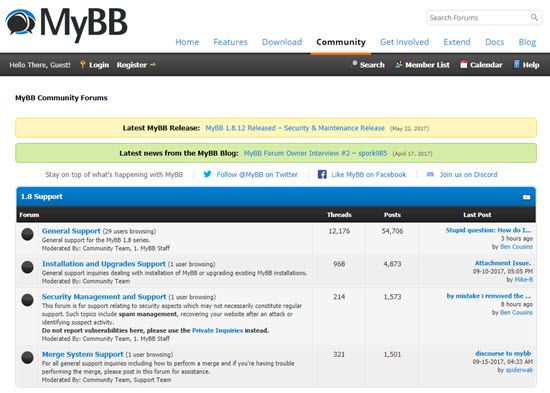 Simple Forum is premium responsive community forum software that can be used to power your entire website or to stay in touch with a group of people.
It is studded with powerful features which enable you to create a unique forum in minutes. It's the simplest yet powerful way for enabling discussion on your website.
Price: Paid
Flarum is one of the most powerful forum scripts. It helps to set up a knowledge base for your users where they can share their inputs with each other. It provides quick and easy installation.
It is studded with an authentication system that enables registration, signing in, signing out, and retrieving lost passwords. It provides a simple and attractive user interface.
Price: Free
We hope that this list on 10 Best Forum Scripts proves immensely useful to you. It features some of the best and very popular forum software solutions. Don't forget to share your comments and suggestions with us.