Looking for PHP Classified Scripts? We must say that you are perfectly in the right place. It's a presentation that showcases 10 Best Paid and Free PHP Classified Scripts.
There are various E-business models available these days. Having Classified Ads websites is one of them.
Classified sites are easy to implement, easy to manage and profitable too.
As an online business promoter, you just need to have the best-classified script with you to build a powerful and great looking classified site.
PHP Classified Scripts is the best option for you to design, implement, run and manage a profitable and powerful classified ad website.
So, we have come up with a presentation that features some of the best paid and free PHP Classified Scripts. Using these scripts, you can have a great looking and appealing classified site for yourself.
The PHP Classified Scripts showed here come with features that would surely propel your online business of running classified sites.
Using these Classified Scripts, you get to create classified sites having various categories such as merchandise items, autos, gadgets, consumer durables, bikes, real estates, jobs or any other category that you may like to include in your site.
The PHP Classified Scripts listed here are open source PHP scripts and have highly useful features.
They are fully customizable, have easy administrative control, provide Multilanguage support, multiple themes and plugins support and also provide lots of features and layout options as far as ad placement, sizing, and the display is concerned.
You can include photos in ads, sort the ads and can do a lot of other things.
You can explore these PHP Classified Scripts that we have exclusively compiled for you so that you may get to have lots of great options for PHP classified scripts and can build a fantastic, appealing and attractive classified site(s).
10 Best PHP Classified Scripts
1. Osclass Free PHP Classified Scripts
Osclass provides one of the widely used free open source PHP scripts to build your own classifieds sites. The Osclass Classified Script enables you to create classified sites in minutes whether it is related to advertising real estate or jobs or in for any other Category that you want. Moreover, Osclass is fully customizable as it comes with many templates and plugins too.
Let's get to know some of its features:
Payment Options: It allows you to charge for your ads anywhere in the world. It comes integrated with PayPal, Stripe, and Bitcoin
Worldwide locations: You can create your classified ads web page for any place in the world. It has every location saved and preloaded at the level you prefer such as country, country + region, or country + region + city
Watermark: You can include a watermark to images uploaded by your users. You can have a text or image watermark of your choice
Custom Fields: You can introduce extra fields when introducing an ad. You can also mark them as required or not
Static Pages: You can create up to 100 static pages and communicate to your visitors
Fully Responsive: It creates responsive websites for mobiles and tablets, which will improve your web page SEO
Google Maps Integrated: The Google Maps plugin allows you to include the exact address of the service or product that you want to sell in your ads
2. Noah's Classifieds
Noah's Classifieds is one of the most popular free Classified Ads Software. It is extremely powerful and widely used for building classified ads websites. Noah's Classifieds is already being used by millions of users worldwide.
It is frequently updated and comes with Web 2.0 look and feel. It is thoroughly easy to install and is also easy to use. With Noah's Classifieds, you can create your Classified Site in a matter of a few minutes only.
You can install Noah's Classifieds using SimpleScripts. You'll require a hosting account. You can even try it on your hosting. You need to enter your FTP Information into SimpleScripts. Now, you have to select where you would like to install Noah's Classifieds. That's it. The Noah's Classified will be installed to your website in seconds.
So, it is easy to install. Moreover, Noah's Classified is easy to use. It's one of the most widely used Classifieds Ads Software for websites.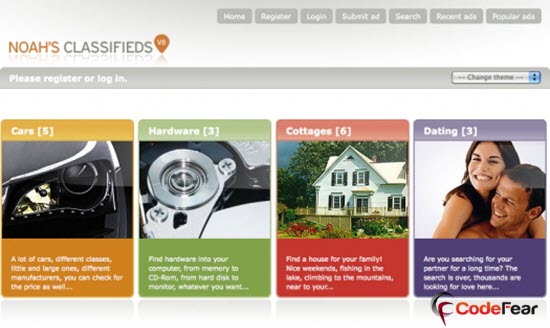 Almond Classifieds is a PHP driven Classified Ads script which enables you to create classified ads site quickly. With Almond Classifieds, you can create multiple categories of classified ads for your classified ad websites.
You can also place ads with photos and can also set the period before the ads expire. It is also highly configurable for features and layout. Almond Classifieds comes in a free edition as well and includes other powerful features too.
Here, we share with you some of its general features:
PHP/MySQL driven classified ads
It allows users to place ads with photos
Multiple categories for classified ads
Protection from ads duplication
It allows users to place comments with photos into ads
Users can embed videos into ad
It offers password protected editing
There are many parameters for configuring Classified Ads
Moreover, much more
4. Yclas Classified PHP Script
Yclas is one of the best platforms for building a classifieds website. With Yclas, you can easily create a successful classifieds website. There are thousands of entrepreneurs and business owners who are using Yclas for building their marketplace.
Its management tools and custom fields allow you to create a perfect marketplace for yourself. Yclas offers you as much as 14 themes to fit your project's requirements. You can modify any color, text or image, choose widgets and sidebars. Plus, they are mobile friendly too.
So, you will surely love Yclas. With Yclas, you don't have to build a new site from scratch. It takes out the pain of building a classifieds website.
With Yclas, you don't need to worry about technical or hosting issues. Another good thing with Yclas is the fact that you don't need any web development knowledge. It's a user-friendly platform and covers all the elements you need for creating a classifieds site.
Yclas comes integrated with the most used payment gateways and covers your customers from around the globe. It allows you to create memberships so that you can get money from your classified site. You can accept Paypal, Stripe, 2CO, MercadoPago and eight more payment gateways.
Yclas allows you to create responsive websites that look awesome on any mobile device. It employs best practices of Search Engine Optimization saving your time, effort and technical knowledge.
It even allows social login with Facebook, Twitter, Google, and Hotmail. Moreover, there is much more to Yclas making it one of the best platforms for creating a classifieds website.
5. Silurus PHP Classified Scripts
Built on PHP, Silurus provides an open source classifieds script for creating a powerful and user-friendly classified ads websites. You get to have full access to its source code and is highly customizable too. Silurus is easy to install and comes with highly efficient users' management.
It is perfectly suitable for all types of classifieds which include general merchandise products, bikes, autos, real estates, jobs, and other categories as well. Silurus comes with a template system and moreover is available as a free download.
Here, we list down some of its key highlights:
It is fully customizable
Open Source and hosted on Github
You get 100 percent access to the source code
It is easy to install
Built-in banner system
Listings and User Management
It has customizable items fields
You can download it for free
LaraClassified is a well known Classified Ads Web Application in the market. It's an Open Source and modulable app with a fully responsive design. It has been built using Laravel and Bootstrap (HTML5 & CSS3).
LaraClassified comes loaded with lots of features.
Here, we share with you some of its key features:
It allows you to create your Classified Ads; Auto Deals Classified, Real Estate Classified, Directory Listings, and even Jobs Portal websites
LaraClassified features a clean and modern design
It is fully responsive
Geolocation supported
It uses Frameworks such as Laravel, Bootstrap, jQuery, and VueJS
Multi-Currencies and Multiple Languages Available
Multi Countries support. You can switch to multiple countries or a single country
Multi Skins – 4 pre-made skins
Unlimited Colors
Its PayPal integrated
Google Adsense Integrated
Google Maps Integrated
Facebook comment integrated
Re-Captcha integrated
Homepage customization
Email and SMS Notifications
SEO optimized
Social Networks login
Front End Listing Submission
Innovative and powerful Admin Panel
Easy to use
And much more
LaraClassified is priced at $69. Future updates are available with it.
Classified Made Easy is another top-rated PHP Classified Script. It can be used as a map/text-based classified or for any listing website. It offers an API which can be used to hook to its inner functionality.
Its regular license is priced at $30. Future updates are available. You also get six months of support from csgraduate. Moreover, extended support to 12 months can be had for an extra $9.38 only.
Here, we share with you some of its main features:
HTML5 Responsive Design
It comes with 10+ bootstrap themes
It's lightweight and lightning fast
Includes GeoIP option
Clustering support
Supports thousands of markers without performance issues
Multilingual
Adsense ready
It is PayPal integrated
SEO support inbuilt
Login support through Google, Facebook, and Yahoo
Member Administration
Powered by jQuery and Ajax
Easy to install
Full help and documentation
And much more
Quickad is a premium Classified PHP Script. It is fully responsive and offers a classic design. It's a fast and powerful PHP Script for building classified sites. It is easy to setup, easy to use, and can be customized according to your preferences. It's one of the best PHP Script for starting an online classified business.
It helps you to build a complete classified solution. It's suitable as a material design classified script & classified jobs portal. Quickad Classified Script allows the end user to post free classifieds. Its regular license can be bought for $69.
It comes with future updates and six months of support from bylancer. You can even extend support to 12 months by paying $24.00. Moreover, you get world-class support with Quickad.
Some of the key features are as follows:
Premium Chat
Multi-Currency
Multi-Country
SEO Optimized
Material and Classic Theme
Multi-language
Fully Responsive
Easy to customize
20 Color Schemes
Social Login
Google Map Integrated
Power Admin
Adblock optimized
Supports PayPal, Wire Transfer, Skrill, Paytm, and Paystack
And more
9. EasyAds – Classified Ads Script
EasyAds is another top classified ads script. The EasyAds Script allows you to start a classified ads business. You can build a marketplace with products or have an auto market or job board. The admin has the option to post an ad or charge the customers premium packages fees.
EasyAds comes integrated with five popular payment solutions. It offers a powerful admin panel with which you can control all the aspects of your classified ads business. For example, you can manage countries, languages, customers, pending ads, as well as many other options.
It allows customers to pay for their ads with PayPal, Braintree, 2Checkout, Stripe, and Manual Payments. So, EasyAds makes it easy for you to start your business with classified ads.
EasyAds comes loaded with numerous powerful features. Some of its key features are as follows:
It is responsive & mobile optimized for an enhanced mobile experience
It can be translated to your language in minutes
Advanced and powerful admin panel that allows you to make all settings and track activities
It comes with a clean design
Unlimited categories
Unlimited currencies
Easy to set up and install
Many payment gateways
Online documentation
Fast support
Social sharing integration
Social Logins
Supports Google Adsense
RTL support
Excellent support
And much more
Its regular license can be bought for $69. It comes with future updates and six months of support from CodinBit. You get extended support to 12 months for $24.
Modesy is another top class marketplace and classified ads script. The script enables you to create a multi-vendor store. So, you can make money from every sale on your site. You can even use it as a store and sell your products.
Well, the script allows you to disable the buy option. The script can be used as an ad site by choosing the classified ads option. Modesy comes with a clean, responsive, and user-friendly design. The script is fast and easy to use. It is secure, fully customizable, and SEO-optimized.
Some of its key features include:
It comes with a clean and responsive design
It's a fully secured system
SEO optimized
It's been built using Bootstrap 4
Enable & disable multi-vendor system
Accept payments through PayPal, Stripe, Iyzico and Credit Card
Accept Payments via Bank Transfer (Offline Payment)
AWS S3 Integration
Filter & Sort Products
Follow & UnFollow members
Manage Registered Users
SEO Tools
Create Ad codes
Moreover, much more
Its regular license can be purchased for $69 with future updates. You get six months of support from Codingest. Extended support to 12 months can be had for $24.
We hope that the presentation on 10 Best Paid and Free PHP Classified Scripts provides lots of options of PHP Classified Scripts so that you easily create an attractive classified website. Thanks for visiting. We welcome your comments and suggestions.