A Contact Form is one of the easiest ways to connect with your website visitors. Your website visitors simply need to fill in few fields in the Contact Form and can send their message across to you instantly. It's so simple!
So, if you still have not included a Contact Form on your website, it's time to have one on your website. You can easily have a contact form on your website by including a PHP Contact Form Script.
Here, we have featured  10 Paid and Free PHP Contact Form Script which will enable you to include a contact form easily on your website.
A Contact Form has become an essential feature of a website. It's an easy way to connect with your visitors or potential clients.
Nowadays, there are plenty of Free PHP Contact Form Scripts using which enable you to include a contact form on your website easily. The best part is, you have to include contact form script on your website contact page. You don't have to work with codes.
So, for a non-technical guy, PHP Contact Form becomes an easy route to connect with visitors. In my opinion, a Contact Form is the best way to receive visitors query. Your visitors have to fill out a small form and click on the send button.
In the absence of a contact form, you have to rely on either email or a phone number for users to contact you. However, with email, your visitors have to take the extra step of composing and sending a message. You can never be sure as to how many of your visitors will compose an email and send it to you. So, you can lose out on the opportunity to connect with your visitors.
With phone numbers, there are other issues. The biggest is you have to come up with a talented sales team who can handle the calls round the clock. That can cost you a lot. Plus, the results depend on how well your sales personnel take the calls.
Thankfully enough, contact forms are easy to implement. The best part is there is free PHP Contact Form Script to send an email to you. So, you can use PHP Contact Form Script on your Contact Page and make it easy for your visitors to send their query to you.
The PHP Contact Form Scripts that have been showcased below are all free and can be easily downloaded. They do not slow down your website and can be placed anywhere on the contact page.
So, let's get started and explore this awesome set of free PHP Contact Form Scripts for your website.
10 Best PHP Contact Form Script
It is one of the simplest contact forms that you can get. It provides a basic website form using only HTML and PHP for form processing. Basic boxes are provided which users need to fill out.
When they submit, the information is sent out to your email address. It allows you to edit the form so that you have a contact form that fits with your website design.
The PHP Code is essentially basic that capture the fields specified in the HTML form. The fields' information is sent to your email address in plain text.
Price: Free
Simple PHP Contact Form is a superb PHP Contact Form from 123Contact Form dot com. It is a very popular and flexible PHP Contact Form.
When the visitors open the Contact Page on your website, a contact form is displayed. In the backend, the PHP Script verifies if all the fields on. If any field is left empty, an error message is shown.
It allows you to add Captcha Image Verification and even Form Validation. You don't need to possess any programming skills for this. It also provides a form builder to customize the form.
Price: Free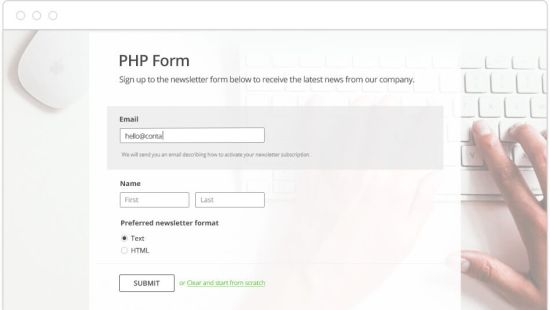 Fancy Contact Form enables you to have AJAX Contact Form on your website. It is quite simple and includes validation tricks. It provides you with a fancy looking contact form.
The best thing with this contact form script for the website is that it works in any browser. You can easily download it and can even modify the code. The only thing you need to put in is the email address you want to receive the emails to in submit.php.
Price: Free
The "Free, Simple PHP based Email Contact Form" enables you to have a simple 'contact us' form on your website. It collects different pieces of information (such as name, message, and email) from your visitor and then emails that information to you.
With this free PHP Contact Form, you can easily create a simple contact form. To embed a contact form in a web page, you simply have to copy and paste the HTML form code to the web page.
It provides form validations. Validations are done on both the client side as well on the server side. Server-side processing is done through a PHP script that collects the form submission data, validate it and send the email. The code for the PHP Contact Page can be easily downloaded. The download contains the HTML Form Code, the validations, and the PHP Form Handler.
Price: Free
pForm is a free and simple HTML Form Builder from Appnitro Software. With the help of pForm, you can easily create customized forms. They export the code for you to paste onto your site.
It allows you to create simple 'contact form' in merely three easy steps. First, you need to select a color scheme that matches your site. Second, design a contact form using their design options. Thirdly, download and paste in your finished form.
Price: Free
6. Quform – Responsive Ajax Contact Form
Quform is a fully featured, incredible, and responsive Ajax Contact Form Script.
It turns out to be the best script for your contact form. In fact, Quform is one of the best selling PHP contact forms at CodeCanyon.
It's a versatile Ajax contact form which can be adapted as a register form, quote form, or any other form as per your need. Quform features tons of customization options.
Moreover, it could be easily embedded into any web page in a matter of minutes. It allows you to have a simple contact form on your website. So, Quform will surely suit your requirements.
It offers a sleek user experience and makes a positive impact when your visitors contact you.
Some of its notable features include:
Invisible reCAPTCHA support
jQuery effects
Responsive design
Fully tested on iPad/iPhone/Android devices
Powerful code framework
Fully customizable
Three ready to use themes (with six variations)
Valid HTML5
Object-oriented, unit tested PHP code
Form validation & filtering
Save form data to a database
Works with or without JavaScript
File uploads supported
Price: $9
PHP Form Builder is one of the top sellers at CodeCanyon. It's a complete library based on a PHP class with which you can program any type of form using simple functions.
It includes the jQuery live validation plugin which allows you to build any type of form. PHP Form Builder offers extensive documentation which is suitable for experienced programmers as well as novice PHP users.
PHP Form Builder allows you to generate any type of form including:
Contact Forms
Registration Forms
Login Forms
Order Forms
Ajax Forms
Modal Forms
Dynamic Field Forms
Step Forms
Plus, it can be used with any CMS: WordPress, Joomla, and Drupal. It generates clean HTML 5 markup.
Main Features:
Build any form with any framework
120+ prebuilt templates included
Bootstrap 3 + Bootstrap 4 Forms
Material Design Forms
Foundation Forms
Send your emails using customizable HTML/CSS templates
Connect your database and Insert, Update or Delete records
Validate posted values
Price: $20
8. ContactMe – Responsive AJAX Contact Form
ContactMe is a highly versatile, thoroughly customizable, and fully responsive Ajax contact form. The ContactMe script allows you to create the ideal forms to fit your needs with its 28 ready-to-use styles and four different themes.
So, the sky's the limit with ContactMe.
Main Features:
28 combinations ready to use
Seven concrete examples
Four beautiful themes
4 sizes of the form: xsmall (300px), small (400px), medium (500px), auto (fit the container size)
Six different languages: English, French, Spanish, German, Italian, Russian
Fully responsive, mobile friendly
Easy to customize
No page reloads, all requests are made with AJAX
Easy to install in your website
Security vulnerabilities checked
Can send an email with SMTP
Can insert emoticons in all fields
Fully commented
Price: $9
9. Easy Forms – Advanced Form Builder and Manager
Easy Forms is a fully featured form manager application. It comes with a drag-and-drop PHP form builder, advanced notification, lead capture, multi-page forms, lead capture, form analytics, submission manager, templates, and much more.
It allows you to design and develop web forms quickly and easily. With Easy Forms, you can make forms like a Master! It requires no prior experience or coding knowledge. Just drag and drop. You can embed forms easily on any web page including WordPress, Drupal, or any other CMS.
You can even track views, submissions, referrals, abandonment rate, geographic data as well as conversion-critical information about the performance of your forms. So, Easy Forms is one of the best tools to have for any digital marketer out there.
Some of its main features include:
DnD Form Builder: Allows you to design any form
Popup Form Designer: Allows you to set up the size, colors, and effects for your Popup
Email Notifications: get notified by email whenever a form is sent
File Upload: create and customize file upload forms
Captcha: Add an extra layer of security using a reCaptcha field
Submission Management: View, update, delete and search on the data you have collected through a form
Mobile Friendly: Your forms are beautifully responsive
Price: $29
PHP AJAX Contact Form is a flexible and maintainable contact form. It comes with a feedback system and reply management. PHP AJAX Contact Form has a lightweight contact request manager.
It can be easily customized and installed. Plus, it's super-easy to use. It allows you to send a contact request to multiple email addresses that can be stored in a database, as well.
Moreover, AJAX Contact Form can be used as a simple contact form.
Here, we list out some of its main features for you:
Lightweight
Feedback Management
Send email using SMTP
Antispam protection
Auto Responder & Custom Template
Server-side validation
Custom Page Redirection
Hassle-free installation and configuration
Offers tons of customization options
Supports Unicode comments
Easy Validations
Ability to enable/disable auto response
Price: $10
With this, we have reached the end of this presentation. We have featured the top PHP Contact Form Scripts and included both free and paid PHP contact form scripts.
We hope that it proves useful to you. Please share the post on Facebook, Twitter, and Google Plus. We welcome your comments.