Each new day hundreds of online store are being added over the World Wide Web. The popularity, demand, and usage of online shopping store is ever on the increase. Millions of users are shopping online over their desktops, laptops, smartphones and other kinds of devices as well.
All these online shopping activities have generated the need of effective online shopping cart solutions to manage all the different kinds of activities involved in the online shopping. So today we bring to you 8 Best Hosted Online Shopping Cart Solutions which can effectively serve the platform for building and running a shopping website for your online business.
Earlier we had presented to you with the post as "5 Best E-Commerce Software" and "5 Best Premium E-Commerce Shopping Cart Software". The "8 Best Hosted Online Shopping Cart Solutions" is our latest presentation to you in this series.
New online businesses have the vision to establish and grow themselves in the World Wide Web. As such employing the technique of a hosted online shopping solution cart solution can be a right solution for managing all the activities related to your online business. In this case, you only need to devote your time and energies in developing your e-commerce business. Hosting and related services are managed by the provider.
In the ongoing presentation of 8 Best Hosted Online Shopping Cart Solutions, you can definitely select the one which is best suitable for your business requirements. We have also provided an overview of each of the hosted Online Shopping Cart solution so as to give you more clarity for each of the online shopping solutions.
8 Best Hosted Online Shopping Cart Solutions
1. Magento Go
Magento Go is the hosted online shopping cart solution from the world's one of the most trusted brands in the shopping cart solution – Magento. Servers, hosting, and security and other related requirements are handled by Magento itself.
Magento Go is specifically targeted for small businesses as they usually do not have technical expertise and experience to build and manage their online store. You can expect to get a top class premium hosting services. You get automatic upgrades, technical support in the form of email, live chat support, telephone support and other services as well.
PinnacleCart is a popular e-shopping platform which is fully scalable and customizable as well. You get to manage your entire site and store all through the single solution through PinnacleCart. It is easy to set up and can be very effective in product merchandising, customer management, order management, payment and shipping options and lots of other related services as well.
3. Big Commerce
Big Commerce provides a reliable, effective and easy to use Online Shopping Cart platform. It has a whole range of customizable tools to give you a complete creative control such as look, design, layout and functionality of your store. It provides automated email marketing solution and supports mobile commerce as well.
Shopify is a complete online shopping cart solution for running your e-commerce website and online store. Using it you can create and manage your own shopping store online. It has options of over 100 beautiful store designs. It provides a secure shopping cart environment which is Level 1 PCI-DSS compliant and includes eCommerce hosting too.
3DCart provides a perfect e-commerce platform using which you can start and run a successful online shopping store. It has easy to use administrative control interface. It provides fast and reliable hosting and offers lots of design templates to choose the layout of your shopping site. With 3DCart create SEO friendly shopping websites and get toll free shop support as well.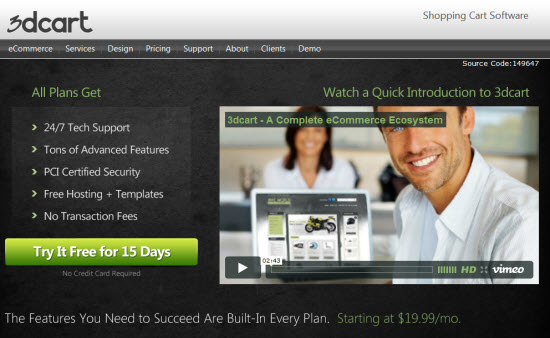 With Volusion you can create a successful online store easily and effectively. Volusion provides an all-in-one online eCommerce solution and gives a 24×7 customer support as well. You can manage all the activities of online shopping through Volusion very effectively. These include activities such as merchandising, marketing, security, and other related services as well.
AmeriCommerce is yet another fantastic hosted e-commerce solution for any type of online business. It gives you a unified management console for the easy and effective administration of your shopping website. It offers a highly customizable design with which you can create and define your own templates. It is easy to set up and also provides the option to set up multiple store fronts as well.
Ultracart is another very powerful Online Shopping Cart platform for your online business. It provides PCI Level 1 security compliant and requires little setup and configuration efforts. It also provides varied administrative tools with which you can manage all the dimensions of eCommerce business. With Ultracart you can effectively manage online shopping activities such as payment processing, marketing and affiliate management, product fulfillment, account systems and much more.