A website search tool is indispensable for your web projects particularly when you look forward to giving an enhanced user experience and want to retain visitors for your website. PHP Search Engine Scripts are ideal for this purpose as it allows your visitors to search for sites, videos, images, blogs, news, forums, and much more.
Although there are numerous PHP search engine scripts on the internet, finding a perfect PHP search engine script is much a task.
So if you too are looking for a perfect PHP search engine script let me assure you that you are at the right place.
Hereunder we have compiled a list of 5 PHP Search Engine Scripts that will certainly ease your job of finding a perfect PHP search engine script for your website.
These PHP search engine scripts will ease the way your visitors search websites, images, videos etc. Using these PHP search engine scripts is pretty easy and you just have to upload the search PHP file. They can be used for small, medium as well as large web projects.
The search is super fast and even doesn't require any database. They enable searching text, images, videos, and PDF files on web. They are lightweight and can be easily set up and modified. These PHP Search Engine Scripts come with all standard search options and are empowered with numerous advanced features, as well. They are very popular and are being used on thousands of websites across the world.
So let's have a look at the 5 PHP Search Engine Scripts and I am sure that you will find a suitable PHP Search Engine Script matching your requirements.
5 PHP Search Engine Scripts
PHP Search Engine is a perfect tool which allows your visitors to search for sites, videos, images, news, and much more. It enables searching for .DOC, .XLS, .PDF, and much more. It facilitates quick and easy way for searching your dynamic websites. It provides tens of filters for all searches and has a Safe Search feature too. The searched keywords are highlighted in the results. PHP Search Engine Script is built on the Bootstrap framework which makes it possible for you easily to change the design. It comes with live pagination and is compatible across browsers and devices. You have to simply upload the search PHP file and build a form on your website and that's it, you are on your way for searching dynamic websites, PDFs, and file names.

Live Search is the perfect search engine for your website. It is ideal for small and medium websites. Live Search enables searching for text, images, and PDF files in your website. No database is needed. The website is crawled from the defined base URL. The search speed is super fast. The content is cached and links are collected so that future searches are fast. The succeeded searches are stored in files so as to maximize search speed. It even implements real Bootstrap Pagination. The text parts are cropped in the search results and only the part with the search string is displayed same as displaying the results on Google.

Sphider is a well known search engine and web spider written in PHP. It is a lightweight PHP search engine which uses MySQL for its backend database. Using Sphider you can build your custom search engine. It is a fantastic tool which adds search functionality to your website. Besides being a lightweight PHP Search Engine, Sphider is small and can be easily set up and modified. It is being presently used across thousands of websites across the globe. It includes all standard search options and also provides several advanced features like spelling suggestions, autocompletion, etc. Its Admin Interface is highly intuitive and makes system administration pretty easy.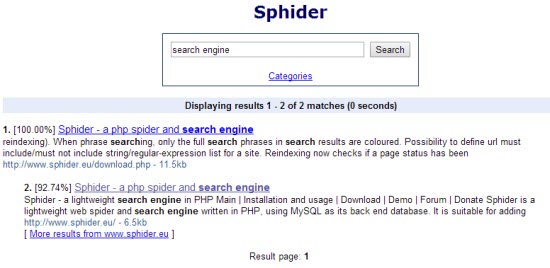 Inout Search Engine is one of the most powerful, feature rich, flexible, affordable, and customizable meta search engine script. It provides with as much as 12 most popular searches on the net such as web, images, forum, videos, blogs, news, sports, audio, and much more. Your users can choose their desired language ( as much as 14 languages are provided by default) and the desired style in which they want to view your website. Besides the default engines, you can even add new engines based on themes, domain extensions, websites which make it a fully featured search engine on the lines of Google, or Yahoo.

PHP Video Search Engine is an advanced and powerful search tool for videos. This advanced video search engine has been based on YouTube's Search API. It comes with a series of filters and includes two display types such as list and grid. You can play videos without going to external links and includes 14 categories available to be searched. Sort facility has been added and one can sort by relevancy, date, rating and view count. It also facilitates uploading dates such as today, All Time, This Week, and This Month. Plus: Videos on the first page are based on custom subject and much more.

Hope you liked these PHP Search Engine Scripts; we will try to add more search engine software on this list.