A website search tool is indispensable for your web projects particularly when you look forward to giving an enhanced user experience and want to retain visitors for your website. Search Engine Scripts (or PHP Search Engine Scripts) are ideal for this purpose as it allows your visitors to search for sites, videos, images, blogs, news, forums, and much more.
Although there are numerous Search Engine Scripts on the internet, finding a perfect Search Engine Script is a hectic task after all.
So if you too are looking for a perfect PHP search engine script let me assure you that you are at the right place.
Hereunder we have compiled a list of 5 Best Search Engine Scripts that will undoubtedly ease your job of finding a perfect Search Engine Script for your website.
In fact, the search engines or for that matter the web spider usually works by crawling your web page, indexing your data and saving the information gained in some database.
So, a search tool for the web tasks or the PHP search engine scripts come as indispensable for that matter.
Here, we present you Best Search Engine Scripts.
The search engine PHP scripts shown below are loaded with many customized functions.
Some of these are:
Fast and Easy to install and configure script
Customized queries all HTML
Customized queries all PHP files on your website
So, these PHP search engine scripts ease the way your visitors search websites, images, videos, etc.
Using these PHP search engine scripts is pretty easy, and you have to upload the search PHP file.
The best thing is the fact that they can be used for small, medium as well as large web projects.
The search is super fast and even doesn't require any database. They enable searching text, images, videos, and PDF files on the web. They are lightweight and can be easily set up and modified.
These Search Engine PHP Scripts come with all standard search options and are empowered with numerous advanced features, as well. They are very popular and are being used on thousands of websites around the world.
So let's have a look at the 5 Best Search Engine Scripts, and I am sure that you will find a suitable Search Engine Script matching your requirements.
We look forward to your valuable feedback.
If we have missed out any cool Search Engine PHP Scripts, do let us know through the comments section below.
Top 5 Search Engine Scripts
Azizi search engine script is the best way to start your search engine. And here's why?
Using this handy tool, you can create a search engine easily.
Azizi search engine script allows you to start your custom search engine just like Google, Yahoo, and Bing. It works as a spider or a Metasearch engine. Azizi is based on PHP, MySQL.
Azizi is loaded with lots of powerful features.
Primary among those are:
It's preloaded with ten popular engine types for Google API & 4 for Bing API
It offers advanced and easy to use Control Panel
It's 100% Open Source and Customizable
It allows you to monetize your search engine easily
Supports responsive design
It comes with Retina Devices Support
Unlimited Custom Engines (Google API Only)
Unlimited Queries per day
It has support for 'Left to Right' as well as 'Right to Left' languages
With Azizi, you can build an Enterprise search engine and allow your employees to search for your DATA. It can even let you create your own unique search website with your brand.
Well, Azizi is also for organizations. You can start your ORGANIZATIONS search engine for your school or institution.
It facilitates Theme Search. You can create a based theme search engine. All in all, Azizi is a master class piece built with passion.
It's a good search utility with fast results. It's built in to get your business searching website rolling.
Azizi lets you create your customized search engine based on APIs. It's a search engine script we know that you would want it for sure!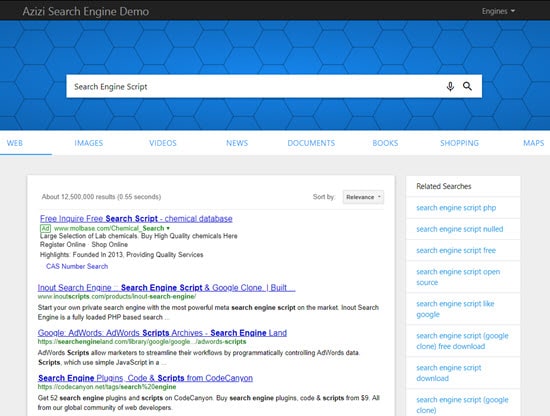 Live Search is the perfect search engine script for your website. It is ideal for small and medium websites.
Live Search enables searching for text, images, and PDF files in your website.
No database is needed. The website is crawled from the defined base URL. The search speed is super fast.
The content is cached, and links are collected, so that future searches are fast. The succeeded searches are stored in files to maximize search speed.
It even implements real Bootstrap Pagination.
The text parts are cropped in the search results, and only the part with the search string is displayed the same as displaying the results on Google.
Some of the major highlights of Live Search include:
Live Search is easy to include and set up
It works with every smaller and middle website
The script does not require any database
It includes Pagination function
Caches the search results and content
Search for images
Thumbnail-Generation on the Fly
Search within PDF files
You can add an XML Sitemap
LiveSearch Manager
Search for META-description
Search for META-keywords
Define logical correlation between single words
Sphider is a well-known search engine and web spider written in PHP.
It is a lightweight PHP search engine which uses MySQL for its backend database.
Using Sphider, you can build your custom search engine.
It is a fantastic tool which adds search functionality to your website.
Besides being a lightweight PHP Search Engine, Sphider is small and can be easily set up and modified.
It is being presently used across thousands of websites across the globe.
It has all standard search options and also provides several advanced features.
Its Admin Interface is highly intuitive and makes system administration pretty easy. It is easy to set up and easy to modify.
It allows you to include search functionality to your website easily. You can build your own custom search engine using Sphider.
It supports all the standard search options. Besides, there are a lot of advanced features as well as spelling suggestions, auto-completion, etc.
Sphider is being used by thousands of websites across the world.
Features
It performs full-text indexing
Indexes static as well as dynamic pages
It can finds links in href, frame, area and Meta tags
Follows links in JavaScript as strings
Follows robots.txt, and nofollow and noindex tags
It follows server-side redirections
Indexes PDF and DOC files
You can resume or pause spidering
Possibility to exclude common words from being indexed
Supports AND, OR and phrase searches
Includes a sophisticated web-based administration interface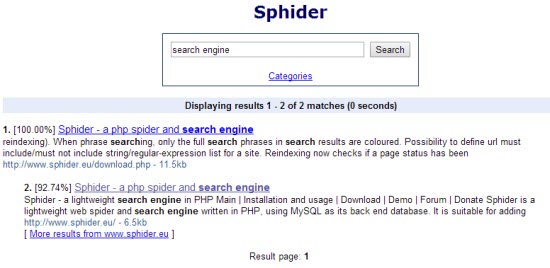 Inout Search Engine is one of the most powerful, feature-rich, flexible, affordable, and customizable Metasearch engine scripts.
Inout Search Engine is a PHP based search engine script. It's the best way to start your own private search engine. It's highly suitable for small businesses.
It provides with as much as 12 most popular searches on the net such as web, images, forum, videos, blogs, news, sports, audio, and much more.
Your users can choose their desired language (as much as 14 languages are provided by default) and the desired style in which they want to view your website.
Besides the default engines, you can even add new engines based on themes, domain extensions, websites which make it a fully featured search engine on the lines of Google, or Yahoo.
You can run it as a Metasearch engine with powerful APIs or else attach your own web crawler.
Main Features
Inout Search Engine offers easy custom search
It comes with API Integration for Meta Search
The script supports advertising integration. You can integrate ad codes
It offers detailed search statistics
Caches the results and save API calls
Thumbshots and Quick Look
Easy Customization
AutoSuggest search as they are typed in the search bar
Mix Results from Multiple Sources. It even removes duplicate results
Using RSS sources, it can create custom engines
Improve search results with geo-targeted for the user
It tracks the IP of the visitor
Built-in Responsive Themes
PhpSearch comes as a search engine platform which is based on Bing's API. It allows users to search the entire web or even your websites for web pages, images, videos, and news.
PhpSearch has tons of filters for refining the search results.
It offers the local search, light and dark interface, and more.
PhpSearch is loaded with tons of features allowing to search for web pages, images, or videos on your site or the entire web.
PhpSearch offers the facility to search the Internet for pages or files. It allows users to find images using dedicated filters. You can discover new video clips or get the latest headlines.
It has the "Autocomplete" feature so that users can get search suggestions while they type.
Moreover, with PhpSearch you get instant answers. It has a fully responsive design and is retina ready.
It has been optimized for high capacity websites. PhpSearch is fully customizable with themes and languages.
It has all the features that users expect from a search engine. It allows users to search the web for pages, images, videos, and news.
Its Admin Panel gives you complete control over your website. You can set the search region, limit search results to specific sites, and more.
Its built-in theme system allows switching between themes in an instant so that you can give your website appearance a fresh new look.
All in all, PhpSearch is one of the best search engine scripts.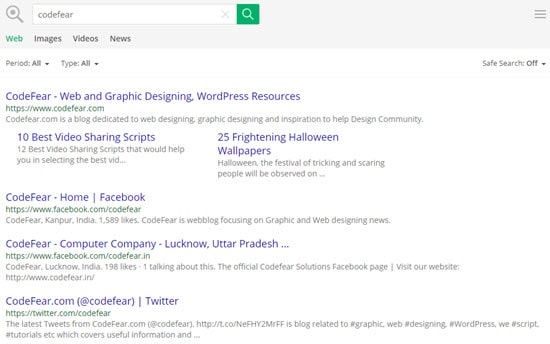 Hope you liked these PHP Search Engine Scripts; we will try to add more search engine software on this list.