Although, Search Engines have become the norm for seeking information and getting answers to your questions, but is it so that they are the only way to get information and knowledge online?
Definitely Not.
You also have the choice of using Knowledge Sharing websites or you can look up to Question & Answer websites.
Question and Answer websites are becoming popular day by day as they provide reliable and accurate information. Users can expect to get answers to their questions from people who are experienced and expert in their field of work.
If you are a webmaster or e-entrepreneur who is looking to integrate a Question & Answer Script on their website or wants to launch a separate Question & Answer website, then we have brought a highly useful collection of Best Q&A Software Solutions.
You can use the Q&A Platform to design a question and answer website that can be used by your visitors. Some of the Question & Answer Software (showcased hereunder) are free while others need to be purchased. We have taken utmost care to include those Q&A Software which are highly advanced, powerful, and popular too.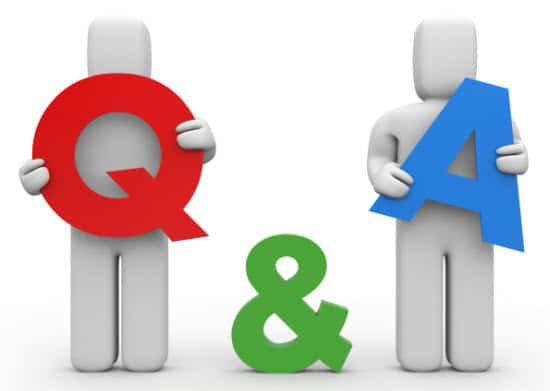 With Q&A sites, you can build a large community of online users who seek answers to their questions. Users can ask questions as well as give answers to questions posted by other users. You can have an unlimited number of categories and sub-categories so that users can post questions in these specific categories.
Question and Answer Software or Knowledge Sharing System (showcased hereunder) is user friendly, and easy to install. They can be extensively customized to enable or disable features and functionalities. Their Admin Panel is also highly powerful so that you can control your Q&A website. You need not be a technical expert to use the Admin Panel. You can add users, delete, users, moderate questions and answers, and perform all sorts of activities necessary to run and manage a Q&A website.
So have a look at the following presentation of Best Question & Answer Software and we are sure that you will find suitable Question and Answer Software matching your needs and requirements.
11 Question and Answer Software
1. OSQA
AnswerHub brings to you one of the most vibrant, open source, free Question and Answer Software Solution. OSQA is reliable and easy to handle Q&A Software for websites which have limited needs. OSQA has been written in Python and is empowered by the Django Application Framework. It supports email lists and online chat channel, as well.

Question2Answer is another fabulous open source question and answer software solution. Moreover, it comes as a free Question & Answer Platform. Using Question2Answer you can build a great Question and Answer website so that your online community can ask questions and get the answers they are searching for easily and readily. Other than asking questions, users can comment, vote, notify, give points and provide rankings, as well. It is easy to install and handle and is fast, reliable, and secure.

3. LampCMS
LampCMS is another very useful open source Question and Answers web software solution. LampCMS is tag-based and also supports for categories and sub-categories, as well. In many aspects, it resembles Forum Software like "Sticky Threads" and "Dot Folders" and has many features similar to Quora and StackOverflow. LampCMS has been written in PHP and is integrated with sites such as Facebook, Twitter, Linked-In, Tumblr, etc.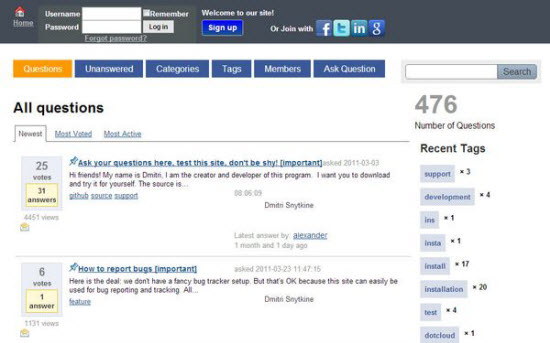 4. Question Answer Script
Question Answer Script is one of the most popular PHP Answer Script. It has got acclamation as the Best Answer Clone. It provides a platform where visitors can ask questions and answer them. It provides easy installation process, and the Script has a thoroughly easy to use Admin Panel too. Most of its features can be enabled or disabled easily with just a single click as they come in Off/On mode. Question Answer Script is highly customizable and enables you to set features according to your own requirements. You can do a question and answer publishing, include poll question, images, and videos. Question Answer Script provides a highly secure and reliable environment.

With AlstraSoft's AskMe Pro Script, you can have your Question and Answer Site. The script provides a knowledge management system with which you can set up an expert advice service site very much similar to Yahoo Answers and StackOverflow. It is highly customizable and enables you to have a niche expert advice site in just a few minutes. It comes integrated with PayPal Payment System.

Stacked is an Open Source Implementation of StackOverflow. It provides an advanced Questions & Answers Management System for Forums, FAQs, and many other similar systems.

Coordino is a highly useful open source Question and Answer Software Solution. Using Coordino you can create a knowledge base solution or can build a niche question and answer website. Coordino is absolutely secure, reliable as it provides full control on the security of your users and keeps your data safe on your system. It is frequently updated adding new features and functionality and provides extensive support, as well.

8. Annova
Annova is a fantastic Knowledge Sharing System using which you can create knowledge sharing website such as Yahoo answers. It is a perfect platform for asking questions and answering online. It is unique in the sense that it also allows you to load audio and video answers. It can be easily customized and is quick to set up. Annova provides an easy-to-use Admin Panel with which you can control your site without requiring any kind of technical knowledge.

Phpancake is another superb question and answers system. Phpancake is an open source platform and has been built on the lines of Stackoverflow and Digg. Here, the validity of the questions and answers can be determined. Users Community can moderate the validity of the questions and their answers through a voting system.

10. PHP Questions & Answers Script
As it name signifies, PHP Questions & Answers Script is a PHP Script which can used to have a question and answers website. It allows you to create categories where users can post their questions. You can also add, delete, or edit categories. It has an Administration Panel with which you can control the features and functionalities of your question and answer website. You can mark a question as solved or unsolved and so Pagination, as well. It is search engine optimized and supports lots of other features too.

11. Answer Question Script
Using Answer Question Script you can create your own question answer website. It is a PHP based knowledge sharing system and is highly reliable, secure, powerful, and flexible too. AQS (Answer Question Script) supports an advanced multi language system. You can add an unlimited number of categories and sub-categories to it.

We hope that you would have liked our presentation of Best Question & Answer Software and have found it highly useful. We look forward to your comments and suggestions.