Are you looking for a free photo editing software which can make your photo editing and enhancement tasks easier and effective too? Or are you not satisfied with your present photo editing software, finding it either too simple or too complex to handle its various features? No problem at all, as we are here to help you find a right solution for your image and photo editing requirements. The "5 best Free Photo Editing Software" options that we have listed here under would surely help you in finding the right photo editing solution for yourself.
As a graphics designer, developer, animator, photographer, blogger or even as a general user you often come across situations when you want to edit the photos or pictures that you have collected. You want and require giving special effects, special retouches, crop unnecessary areas of your photo, resize, do color adjustments, remove red-eye effect, add text, draw pictures, convert RAW files to other popular image formats, watermarking or it might be some other tasks as well.
In such a situation a useful and powerful photo editing software comes handy. The "Best Free Photo Editing Software" shown in this presentation have all of the above mentioned features, capabilities and tools to assist you in giving the right mix of editing and enhancements effects to your images or photographs.
All of the featured "5 best Free Photo Editing Software" are easy to use and are highly effective in their overall performance. They come with an intuitive and innovative user interface to make things easier for you. And also all the featured photo editing software comes absolutely free of cost so that you may download them at any time and test their usability, features and other capabilities as well.
We hope that you would get the right solution from the list that we have listed the Best Free Photo Editing Software.
Top Free Photo Editing Software
Photoscape is a free photo editing software which helps you to edit and enhance your photos.

IrfanView is free Windows graphic viewer software. It features many useful and powerful features such as support for multiple file formats, IPTC editing, email option, cutting, cropping, editing effects, paint options, watermarking and many other features as well.

3. FastStone
FastStone is user-friendly and powerful image browsing, converting and editing software. It comes with a wide range of features such as image management, image viewing, resizing, cutting, cropping, color adjustments, magnifier, slideshow facility, supports all major file formats and much more.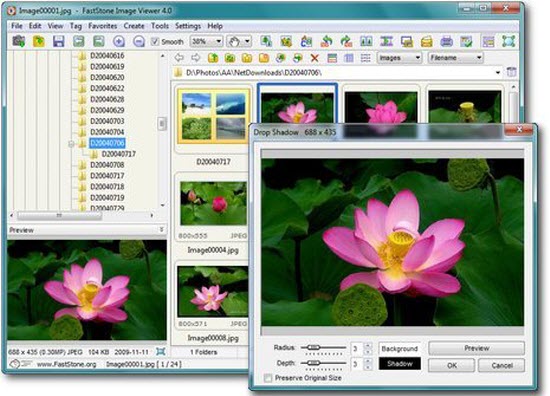 Photo Pos Pro is a free photo editing software which provides users with rich set of features for Image Editing, Image Enhancing and also for Computer Graphics Design.

Paint.Net is a Windows image and photo editing software. It provides useful and powerful set of tools for editing and enhancement of tour images and photos. It is empowered with an intuitive and innovative user interface which supports layers, special effects, unlimited undo and much more.