If you are looking for a new, stylish, colorful  and modern Joomla Template, then probably you have landed at the right place. You would shortly get to see a powerful and advance Joomla Template for your Joomla powered websites.
Yes, Joomlashack, one of the pioneers in creating awesome Joomla Templates has come up with a new and powerful Joomla Template named as Imago. Imago Joomla Template is the first template in the "Designer Series" Templates from Joomlashack. Imago is a Joomla Template which has great color balance, supports rich typography effects and yet has a simple and clean design.
Joomlashack has paid much attention to the details and designing aspect of Imago so as to give a richly featured Joomla Template. Imago provides the option of six color themes together with four different module styles which even includes a light and dark theme, as well. It also supports sixteen different module variations. Together with this, Imago Joomla Template has a single scrolling page, dynamic in-page menu style, dynamic embedded and numerous image border styles, as well.
As, Imago Joomla Template has been built on the Wright Framework, it supports Non-Responsive as well as Responsive layout options. So if, you prefer to use Responsive layout for your Joomla enabled website so that it is compatible across various digital devices like laptops, tablets, and Smartphones, then you can very well go for the Responsive option available in Imago.
Another advantage of the Wright Framework of Imago is the fact that it is required bare minimum resources to load and function. So your audience does not face any problem in surfing your Joomla powered website. From the SEO point of view, a quickly loading template or site is really helpful.
On the whole, Imago Joomla Template from Joomlashack has all the features to power your Joomla website for a great user experience.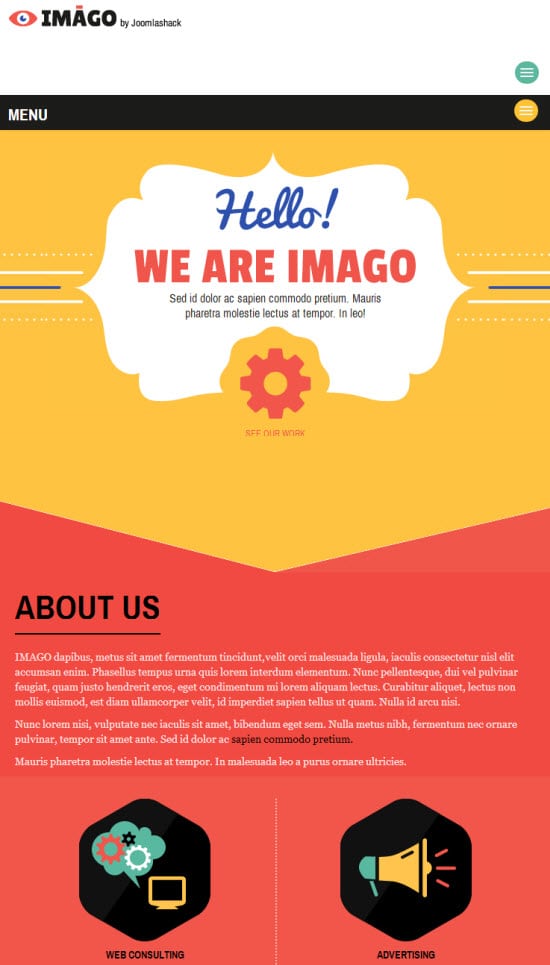 Some of the main features of Imago Joomla Template from Joomlashack include:
Compatible with Joomla 2.5 and Joomla 3.0
Has Responsive and Non-Responsive Layout Options
6 different Color Themes
4 module styles
16 module positions
built on the Wright v3.0 Framework which is minimalistic and lightweight
it comes with various dynamic embedded and image border styles