The domain name is your unique identity on the World Wide Web. It is the name given to your website. A domain name specifies the address using which Internet users can access your website. Today's post shares the Best and Cheap Domain Name Providers.
If you are thinking of starting a website for your business, securing a domain name is the first step you need to use to achieve success. A compelling domain name is the first thing you need to have an online presence on the World Wide Web.
However, for securing a domain name for your website, you need to work with a domain name registrar. These are the companies that manage the domain names behind the websites.
That said, not all domain registration companies or websites are created equal. Though they have a somewhat similar set of features, domain registration websites have distinct advantages and disadvantages. So, it is in your interest to work with the best domain name registrar companies.
Here, we have come with an article featuring 10 Best and Cheap Domain Name Providers.
These are the best domain name registrars that go on to provide cheap domain registration.
Why you need a Domain Name?
The Domain Name System was purposely created for the benefit of humans.
In fact, the actual address by which a website is identified on the Internet is in a numerical format and uses an Internet Protocol (IP) address, which consists of four series of numbers separated by periods.
For example, an IP Address takes the form such as 215.55.256.145, and so you can see that it is not easy to remember for most of us.
So, to overcome the drawback of remembering IP addresses, the domain name system came into existence.
It is much easier for Internet users to remember a website named "mywebsite.com" than to remember a number provided by the IP address.
Domain Name Registrar
The domain name you want to use for your website must be purchased and registered with a domain name registrar.
The domain name registrars are accredited by ICANN (Internet Corporation for Assigned Names and Numbers). The ICANN is a non-profit body that goes on to manage the Domain Name System.
When you want to develop a website, you approach a domain name registrar and register the domain name that you want to have for your website.
However, the important thing here is that the domain name you want to register should still be available.
If the domain name you pick is already registered, you have to select any other domain name that is not yet registered. So, you have to be invariably involved in domain name lookup.
The domain name selection requires you to choose the extensions like .com, .org, .co, .io, etc., that are suffixes used with the custom domain name.
Most of the domain registration websites offer a simple process for the purchasing and renewal of domain names. However, each domain name registrar has its associated positives and negatives.
Moreover, there are hundreds of domain name registrars. So, you have to make sure that you purchase your favorite domain through the right registrar.
The list of 10 Best Domain Name Registrars
Here you get the list of the 10 Best Domain name registrars. It will prove to be a valuable asset for you to get reliable and cheap domain registration websites.
We have also featured a section at the end of the post which shows you what you need to look out for when picking up a domain name registrar. It will help you to make the right decision while choosing a domain name registrar.
But first, check out the list of the best domain registration websites that we have exclusively compiled just for you.
10 Best Domain Name Providers
GoDaddy is one of the big names amongst domain registrars. They are regarded as leaders in domain name registrars, so there's every reason to check out what they have to offer.
The best thing about GoDaddy is that they have been around for a very long time. So, you can trust and rely on their services. They work as both domain registrar and a hosting company.
So, they have much to offer for your website without you having to look elsewhere.
Besides being one of the biggest domain name registrars, GoDaddy also offers other services like web hosting and support larger sites, eCommerce sites, and much more.
The usual cost for registering a domain name at GoDaddy comes to $14.99/year. However, they do run promos where you get the opportunity to register a cheap domain name for $0.99 only.
GoDaddy does offer phone and chat support, which is pretty decent. However, their overall design and ability to use the service have a good scope for improvement.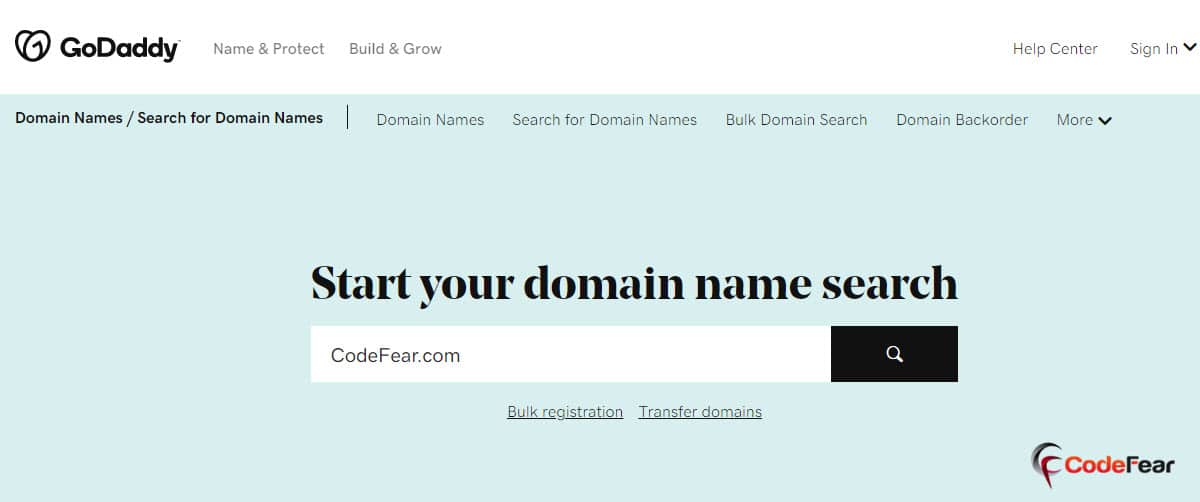 Namecheap is another excellent domain name registrar. A big plus with Namecheap is that its site is incredibly intuitive and easy to use. They have put special emphasis on their domain management pages, which can be pretty useful for you.
With Namecheap, you get the opportunity of having reasonably-priced domains. They also offer a free DNS service and WHOIS protection. There is SSL encryption for the ones who want to tighten up the security of their domains.
Domain name registration with Namecheap can cost you $10.69 /year. Plus, if you face any issues with your domain setup, then you can turn to their tutorial videos. Their checkout process is swift and easy-to-use. They also provide a beneficial knowledge base if you ever run into any setbacks. There is chat support, as well, which is very responsive and helpful.
1&1 (IONOS) is one of those domain name registrars that has been around for quite some time now. Their popularity can be judged because they are currently involved in managing around 19 million domains worldwide.
1and1 is best for those who want to register their domain names but don't have much of a budget.
1and1 offers a first-year registration plan and runs promos to grab a domain for less than $1.00. Now, that's a lucrative steal that you can have on 1and1. With 1and1, there are no additional ICANN fees or private registration fees, so the prices you see are the ones you get at check out.
Besides being a domain name registrar, 1and1 also provides web hosting, email hosting, a website builder, and eCommerce solutions.
HostGator is mostly known for its hosting. Currently, it is hosting more than 9 million websites on its platform. However, it's also a great place for registering domains irrespective of the extent of your journey in the online world.
With HostGator, you get to have domain hosting and low-priced hosting bundles for as low as $4.99 a month, which is a fabulous steal. They have excellent uptime, as high as 99.99%, which means that your website will be rarely offline.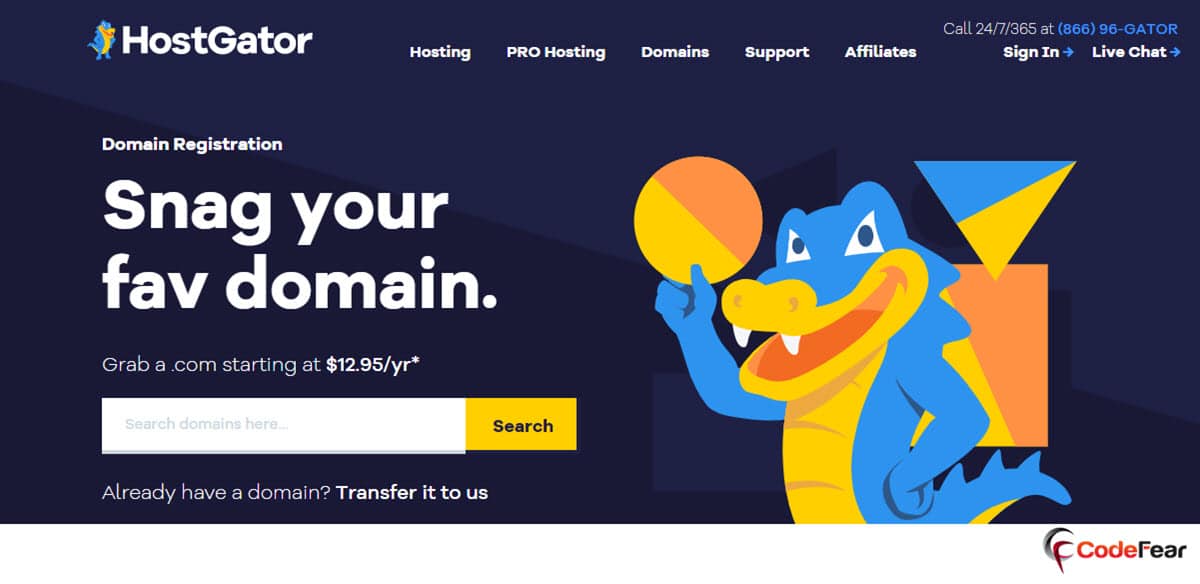 iPage is recognized as a leader in web hosting since 1998. Moreover, iPage proves an excellent solution for having a website and online presence for your business. It goes on to offer fully-loaded hosting with a free domain name.
With its comprehensive tools and training, you can have a commendable web presence, sufficient to take on any competition in the world.
Its Website Builder provides hundreds of templates to have a responsive website that can work on any device. Its marketing suite helps you to top the search results and boost up your website traffic. Their teams of experts are ready to help you 24×7 by phone and chat.
InMotion Hosting is mainly known for its web hosting solutions. However, InMotion Hosting is also an excellent domain name registrar. It can be used to register any .com, .org, .us, .biz, or .info domain and can support any domain on the net.
All registered domains come with a free setup. Domain privacy is also available. It's a company that immensely understands your unique business requirements.
When you purchase any of its 12 or 24-month hosting plans, you get a free domain and can have your domain transferred for free without any downtime or hassle. You can even reserve your domain so that it is available when you need it.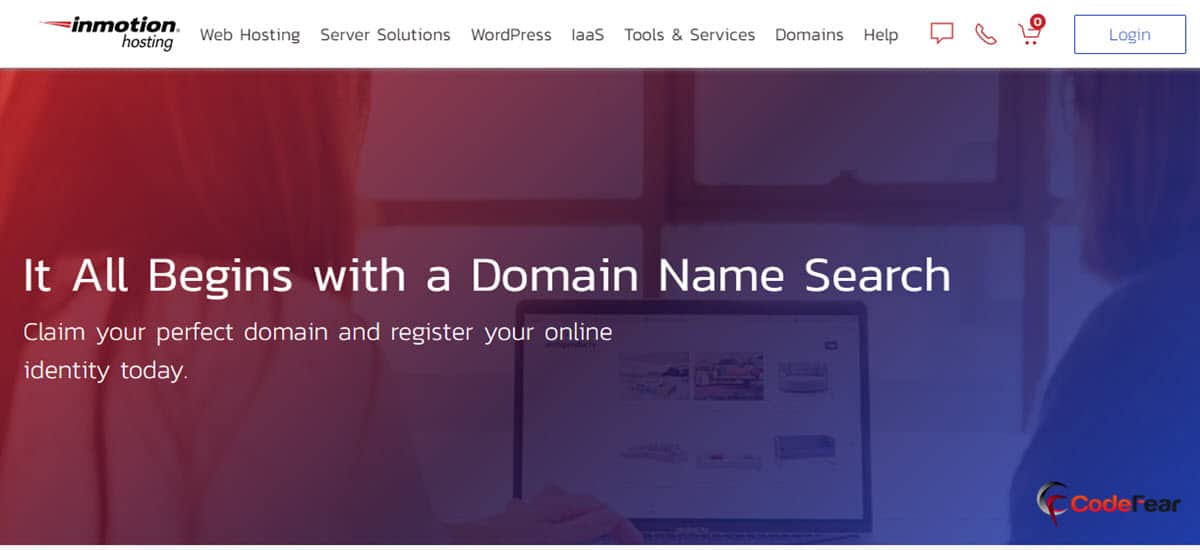 DreamHost is a fully-fledged hosting company and domain name registrar. It is functioning since 1997. DreamHost provides hosting solutions to over 1.5 million websites and has many customers, over 400,000.
So, if you are searching for a domain name registrar that also provides hosting solutions, then DreamHost might turn out to be a perfect choice.
With DreamHost, you can look for many cool features, such as free domain privacy, a nearly unlimited supply of domain name extensions, and superb control over your domain's settings.
They also have a good refund policy. The cost of registering a .com domain comes to be $13.95 per year. However, the pricing of other domain name extensions is much lower.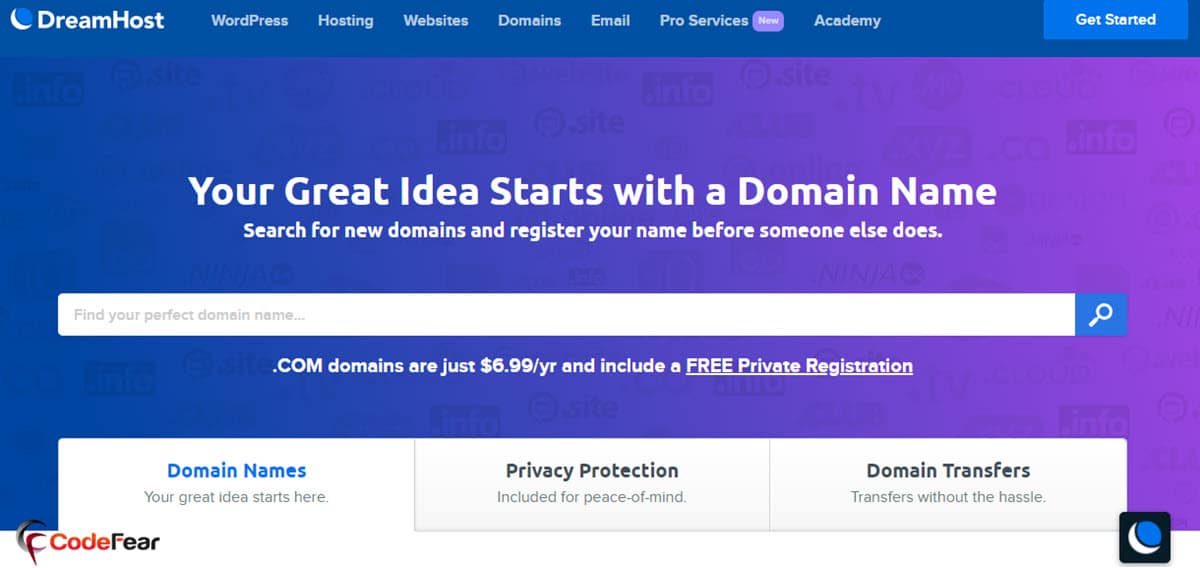 Bluehost is a very well recognized and popular web hosting company with solutions that help people get started online. However, Bluehost also functions as a domain name registrar, as well. So, Bluehost is a competitive solution when you want to purchase hosting and register your domain name.
When you go for one of its hosting packages, you also get the facility of free domain name registration. So, Bluehost offers the opportunity to save your money when purchasing hosting and a domain simultaneously.
Bluehost is particularly known for its excellent support team, which is there for you 24/7, 365 days a year. A lot of people go on to choose Bluehost just because of their support alone.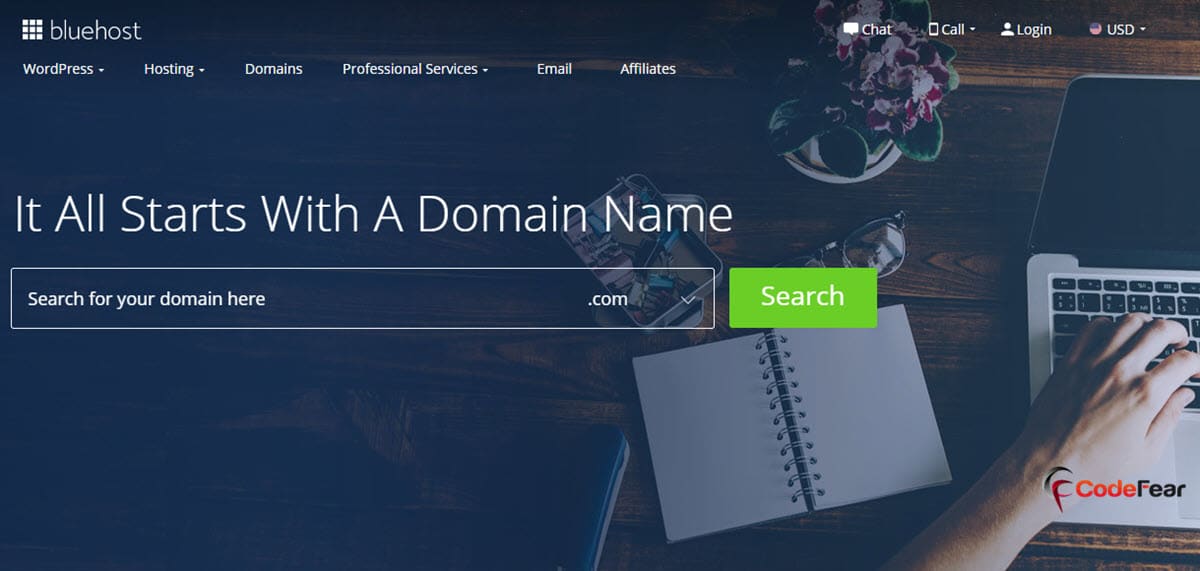 Network Solutions is one of the most popular domain name registration website that also provides hosting, eCommerce, website design & building, and online marketing solutions. The domain name registration business is the most important division of the company. Currently, the company is managing more than seven million domain names.
Network solutions have excellent tools for registering and managing domains. Plus, it offers a diverse range of web hosting solutions, varied email marketing capabilities, easy to use website creation tools, and a wide array of eCommerce features.
You can also transfer your Domain to Network Solutions. It provides auto-renewal of domain names before their expiration to protect your domains from service interruptions or deletion. There's 24/7 support through phone or email. It also provides user guides and tutorials to help you with the answers you need.
FatCow helps to build and manage your website from scratch. It offers excellent web hosting solutions, website management, domain services, email services, eCommerce services, and marketing services. It is one of the cheapest and most reliable domain name registrars.
FatCow provides an opportunity to create your unique identity on the web with its domain name registration services. You can register a new domain name on FatCow and give your website a unique identity.
There's a lot of you with FatCow Domain Registration and Services. You can protect your personal information with domain privacy. Get enhance domain performance by speeding up web page loads and improving uptime. You can transfer an existing domain and manage your domain with FatCow. It also provides an automated domain renewal service.
Choosing the Right Domain Name Registrar
These days, there are hundreds of domain name providers.
So, choosing the right domain name registrar becomes quite a big ask for you.
In fact, the right domain name registrar should make it easy for you to administer and manage your domain name.
Here, we point out some of the features that you should look at in a domain name registrar:
An Established Reputation – It is relatively easy to become a domain name registrar. Many fly-by-night outfits are there to take your money and run. It would help if you went with a domain name registrar that has made its name in domain registration and functioning for at least three years.
Easy Domain Transfers – Domain name registrar should allow for easy transfer of your domain – in and out of registrar – all without an additional charge.
Contract and Pricing – This should be the immediate focus. The domain registrar that you choose should be reasonably priced. So, check out the pricing options before you take up the domain registrar. Specifically, you should examine any costs associated with domain transfers, the cost of renewal, and any additional fees that they charge from customers.
Customer Support – It is one of the things that should be on your priority list before you go on to select domain name registrar. It would help if you examined the levels of support provided by the domain registrar. Make sure that their support is responsive and helpful enough in solving your queries and problems.
Additional Services – If you are one of those who want an all-in-one domain name registrar that offers additional web services and just domain name registration, you should keep an eye on the additional services offered by the domain name registrar.
Some domain registrars offer bundled services that allow you to register a domain name, host your domain name, build your site out, and purchase other certificates. It would help if you compared the pricing of these additional services offered by different domain registrar before you finalize one for yourself.
Auto-Renewal of Domain name – You never want your domain name expired and available for purchase to other people. So, it's in your interest to choose a domain registrar that offers an auto-renewal of the domain name. At the very least, the domain registrar should send reminders that your domain is expiring.
User experience – A user-friendly domain name registrar should be one of your top priorities. It should offer an easy to use domain management system so that you can have your site up and running. Things such as setting up the DNS servers, creating associated email addresses, installing a CMS should be easy for you.
Your domain name registrar should be accredited by a governing body, such as ICANN: The Internet Corporation for Assigned Names and Numbers, a non-profit organization.
So, these are the features that you must look at in your domain name registrar. The ones we have featured here in the 10 Reliable and Cheap Registration Websites possess these features and lots more.
The effort here is to make it easy for you to choose the best domain name registrar.
We hope that the post proves immensely useful to you.
We hope you liked the 10 Best and Cheap Domain Registration Providers. Please do share which domain registration service company you use.