WordPress has many themes while building up a website or a blog. In this online world everyone whether a small business man or big business man has a website of his business to showcase its products, services and offers.
In the same way restaurants, café, hotels, bar and other dinning places have their websites and blog with their specific names. As websites and blogs needs themes to build their website and if you are building restaurant site on WordPress then there are various WordPress themes available free and paid both.
These restaurant themes are beautifully designed they give us insight of the restaurant with their menu's. Some of these themes have the option of online ordering which many restaurants and hotels prefer.
These restaurant themes are easy to use and customize.
Here we have a list of some of these WordPress Restaurant themes. You can easily use these themes to create your own website or blog. Blogs for sharing your recipes with others can also be done with these themes.
This list gives you many options to choose the perfect theme for your website. We heartily welcome you to comment about your favorite theme.
15 WordPress Restaurant Themes
1. The Restaurant
The Restaurant is a premium WordPress theme that any restaurant or hotel owner can use to create his own website. The Restaurant theme has a unique menu card system, numerous color option and various pattern options.

MyCuisine is a premium restaurant WordPress theme for small business. It is easily adaptable for any type of business also. The theme has perpetual updates with the latest version of WordPress.

3. Delicious Magazine
Delicious Magazine premium WordPress theme has feature that you can make your website look like a blog. It is very flexible and can be used in any type of business. Some unique features are Custom typography, custom widgets, Alternative styles and more.

4. Diner
Diner is a premium WOO themes which is perfect for any restaurant and bar owners. This theme is designed keeping in mind the online orders also showcasing the complete menu of the restaurant.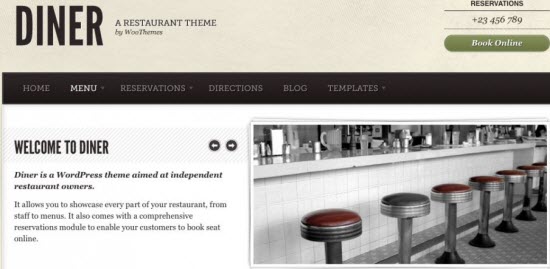 5. Hassiumize WordPress Theme
Hassiumize WordPress Theme is a free WordPress restaurant theme. This theme also can be used by anyone who wants to build a food blog or his restaurant website. The theme has the entire feature online order section, full menu display, SEO optimized, store map and much more.

MY Restaurant Theme is a premium WordPress theme. This theme comes with 4 unique designs completely compatible for a restaurant website. It has online ordering corner with a coupon code option, with shopping cart and more. You can customize the theme your own way this theme is Smartphone compatible.

7. Foodilicious Templatic Theme
Templatic premium WordPress theme is a fully customizable restaurant theme. This theme has everything that a website of a big restaurant demands like menu page, contact us page, category wise list, online order page and much more.

8. CookingPress
CookingPress – Recipe & Food responsive WordPress theme. This is the theme which supports the Google Recipe View. This theme has a customize option which allow you share all our great recipes and dishes with the people.

Food Recipes is another premium WordPress restaurant theme by themeforest. This theme has a slider in it which keeps on changing and showcases tasty dishes. It has 8 custom widgets which make it more user friendly, recipe listing page with all the dish detail and more.

10. FoodPress Theme
FoodPress is a premium WordPress theme which is for food related blog and you have to share your recipes with others so this the perfect option for you. This theme is easy customizable with lots f colors option and unlimited skins.

11. REZO Theme
Rezo WordPress premium theme by themify is compatible for all whether it's a bar or restaurant website or blog. It has a slider, light box gallery which showcases some events pictures. Google map integration with short codes first theme with this feature.

12. FoodMe Restaurant Business Theme
FoodMe Restaurant Business Theme is an easy to use and customize theme on WordPress. It is adorable not just for restaurant, bar or coffee shops website but it can be used for any type of business. It has 20 skins with more than 100 short codes with short manager.

13. Time for Food
Time for food premium WordPress theme is based on CSS and HTML. Time for theme is a theme for displaying your recipes or sharing your articles on food with your readers. The theme is has everything that a restaurant website needs.

Linguini is a responsive WordPress theme, perfect for businesses of winery, restaurents, cafes, food and drinks, bars & pubs etc. this theme offers full localization support, photo galleries, well organized homepage PSD file, logo, WP login logo, AJAX reservation form and AJAX contact form and many more other features.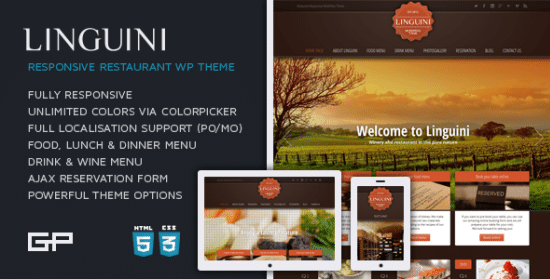 15. Pluto Fullscreen Cafe and Restaurant
Pluto is a WordPress theme designed for Restaurants and café. It has full screen gallery, custom post types, extensive admin panel, cool jQuery novaslider, fully AJAX driven, menu and categories support, skin and colors and it is translation ready as well.