Well, if you are looking for a WordPress Calendar Plugin, then let me tell you that you are perfectly at the right place. Here, we have listed 10 Best WordPress Calendar Plugins for your needs.
In fact, there are numerous WordPress Calendar Plugins with a different set of features and capabilities. So, choosing the perfect WordPress Event Calendar Plugin can come out as a daunting task.
Moreover, if you do not have any prior experience working with a Calendar Plugin for WordPress, it is really difficult to go out and select the best one from scores of WordPress Event Calendar Plugins.
So, we have made your task easy by hand-picking the best WordPress Calendar Widgets or Plugins. Here, you get as much as ten best Calendar Plugins for WordPress which help you to have simple event display and even complex booking and ticketing system on your website.
A lot of times it happens that you need to host many events in your WordPress site. Perhaps, you might be planning to do so shortly. In such scenarios, a reliable Event Calendar WordPress Plugin saves your day.
WordPress Event Calendar Plugin lets you create and manage events such as workshops, webinars, seminars, conferences, parties, concerts, and get-together. The plugin can also be used for event management and online booking.
In fact, Events Calendar Plugin is immensely popular with WordPress users. Here, I have come up a collection of 10 Best WordPress Calendar Plugins that can be used on your website. Some of them are event calendars, booking calendars while other are post scheduling calendars.
So, let us explore these WordPress Calendar Plugins, and I am sure you would find an awesome WordPress Calendar Plugin matching your requirements.
Now, let's go ahead and see the list of 10 Best Event Calendar Plugins for WordPress.
10 Top WordPress Calendar Plugins
Events Management becomes very easy when one uses All in One Events Calendar WordPress Plugin. Its intuitive user interface is so powerful and easy to use that adding events become easy. It supports three built-in themes for calendar display.
It even enables you to sort events into categories/tags. Plus: it has been empowered with powerful configuration options which give you absolute control over the calendar and events. All in One Calendar allows you to tweak Calendar Themes and it enables you to add events from any other events.
The Events Calendar is yet another Event Management System for your WordPress Powered Website. Its user interface is richly presented so as to manage all the event management tasks through its Admin Area.
So on one side, the Plugin is extremely featuring rich, and on the side, it is extremely easy to use. Adding events and organizers, venues all becomes easy t handle with The Events Calendar.
As far as venue locations are considered it is you can use Google Maps for it. With the Plugins settings page, events and calendar can be easily handled. It has paid add-ons with which you can sell tickets for your events. It is powerful yet easy to use Plugin for handling Event Calendar.
If you are looking for free yet powerful event management system, then My Calendar Event Management Plugin can be your perfect choice for a WordPress powered website. It can handle multiple calendars, event groups, locations, and categories.
My Calendar WordPress Plugin also supports shortcode generator, widgets with which you can easily add calendars to your posts, pages, and sidebars. The plugin is highly configurable and provides highly advanced yet easy to use settings page.
You get absolute control over the look and feel of how your Calendar is displayed on the front-end. You can schedule a variety of recurring events and can even edit occurrences of recurring events. It is easy to use and provides enormous flexibility for designers and developers who want to have a custom calendar. Plus, it has been empowered with many more features.
Referred to as Google Calendar Plugin, the Simple Calendar Plugin is one of the Best Ways to add Google Calendar Events to your WordPress powered website. Its powerful add-ons features allow you to fine-tune the display of your Calendar to your liking. It enables the display of your events from any public Google Calendar. You simply have to manage events in Google Calendar.
There is no need to create events in WordPress. Calendar events design is fully responsive, and you also get the mobile-friendly monthly Grid and List views. Powerful and yet easy to use Admin Panel is the highlight of this WordPress Calendar Plugin. It is one of the easiest ways to add Google Calendar events to your WordPress site. It is beautifully designed, quickly to setup, and can be fine-tuned according to your needs.
WordPress Event Calendar is a free and powerful plugin which easily manages recurring events. Using this Spider Event Calendar Plugin, you can easily configure and organize events in a calendar. Above all the plugin is available in WordPress Directory. So if you have any problem in organizing your WordPress Calendar Events, one of the best solutions is this WordPress Event Calendar Plugin.
It is a fully responsive plugin. The best thing is that WordPress Event Calendar Plugin is available for free and comes as a user-friendly, responsive calendar plugin for managing multiple recurring events. It makes event registration and events management easy. It allows you to display beautiful responsive calendars, calendar widget, and upcoming events. It is suitable for websites organizing seminars, conferences, meetings, concerts, and summits.
EventOn is one of the most popular WordPress Plugin for Event Calendar Management. It has the fully responsive layout and, of course, a dedicated Shortcode generator. It has a fully professional design which gives you an enhanced user experience.
It generates different views such as Grid Views, etc. The plugin allows you to add custom color, Google Maps, featured image and much more. However, it comes as a paid Event Calendar Plugin.
All its amazing features help you to set up a calendar for almost any of your needs. With its unique shortcode generator, you can easily customize calendar options. You get to add event images. It uses Google Maps to show event locations and directions. You can even create events that last for more than one day.
The Calendarize it is a powerful plugin which has been rated as one of the best, feature-rich and flexible WordPress Plugin for Event Calendar Management Solution. It is one of the best Drag and Drop Page Builder Plugin. It can function with or without Visual Composer and provides world-class support through its online help center and much more.
In fact, Calendarize it is one of the most flexible and feature-rich calendar plugins for WordPress with lots of add-ons. It allows you to create your own color scheme with its Visual CSS Editor.
It also allows you to customize colors, styles, and fonts. It can be easily translated and follows the WordPress Codex for Internationalization. It comes with added support for Events Countdown add-on. Plus, many more features, as well.
Events Plus is one of the most feature-rich and powerful WordPress Plugin for Events Registration and Booking. Using this Events Management Plugin, you can easily manage all your online events.
For example, visitors can register and pay online for events. Then you can create discount coupons and manage recurring events and much more with this truly fantastic Event Plus WordPress Plugin for online registration and booking.
The Events Plus WordPress Calendar Plugin is one of the best solutions for event managers, workshop managers, gym classes, seminars, and also for any private or public events. It comes studded with awesome features: WordPress Events List, Events Registration and Management, Events Sidebar Widget, and much more.
Here comes a powerful yet simple Event Calendar Plugin with the name Booked which takes care of all the tasks related to Appointment Booking for WordPress.
Some of the tasks handled by this awesome Plugin include Registered and Guest Booking. It comes with Login/Registration form as well as Drag and Drop Custom Fields. It also has the facility of Customizable Emails and Language Support and many more facilities.
Now, you can use Booked with WooCommerce and enable users to purchase their appointments and check-out using WooCommerce. Your Booking Agents get a new profile screen on the front-end with which they can manage their incoming appointment requests.
You can even display your appointments on Apple Calendar, and Outlook with an iCal feed directly from your website. Plus, you get awesome support and lifetime updates free of charge. Booked is all about simple appointment booking. And it's responsive too.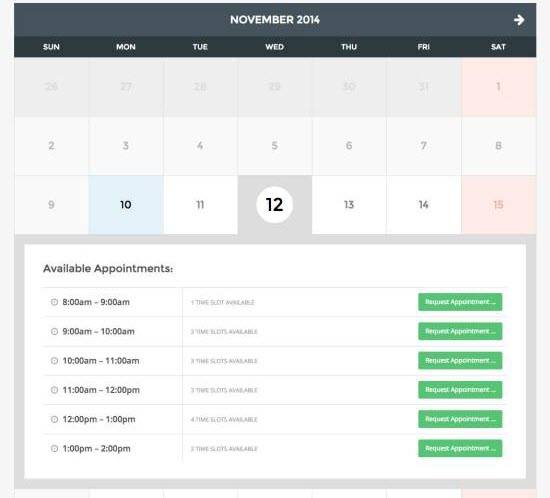 Pro Event Calendar is a fantastic WordPress Plugin with impressive features responsive layouts, lots of settings options, user events, recurrent frequency, Google Map Support and other features. All these features go on to make Pro Event Calendar one of the best WordPress Calendar Plugin.
Using WordPress Pro Event Calendar, you get to add a professional, sleek, and stylish calendar to your posts or pages. It allows you to add special dates to your calendar like Holidays. It comes with an elegant and sleek design. It allows users to submit events from the frontend. It even allows users to book events.
With lots of settings options, you can easily build a flexible and unique calendar. It comes with Google Maps integration with event's location. Plus, you get many more features, as well.
Hope you liked this list of WordPress Calendar Plugins. Please share which WordPress Calendar Plugins you use.