The online world is fiercely competitive.
Moreover, user expectations are running high.
All this cumulates into a simple conclusion.
The fact is running your WordPress site or blog is not at all an easy affair.
You actually have to take care of a lot of things which includes content, site design, marketing, social media, and as well as WordPress Hosting. You have to ensure that your WordPress site is up and running smoothly.
This invariably requires you to have a competent and powerful Web Hosting Platform managing your WordPress website at the backend.
In the following post, I have presented to you a superb collection of 7 Best WordPress Hosting Providers.
As a matter of fact, one of the important decisions that you have to take with respect to your WordPress website or blog is where you should be hosting your website.
In the context of WordPress Hosting, you invariably require WordPress Hosting Platform, which provides you optimized performance for your WordPress website or blog. Moreover, you require 100% uptime as well as great support. Your page load time should be as least as possible so that you are able to grab high ranking in the search engine results page. All this should come to you at cutting edge value. So, you require superb hosting solution and that too at a reasonable price.
What you need is a quality hosting solution for powering your WordPress website or blog so that you get fast load times, enhanced security and expert WordPress support.
Here, I have shown 7 Best WordPress Hosting Providers that can provide you with smooth performance for your WordPress website. With an advanced, fast, scalable, reliable, and secured Web Hosting Platform you can ensure that you deliver optimized performance for your Websites to your users.
So, have a look at the 7 Best WordPress Hosting Providers, and I believe that you will get an appropriate hosting solution for your WordPress website or blog.
7 Best WordPress Hosting Providers
If you are looking for a hassle-free, secured, reliable, scalable, and super-fast web hosting solution then WP Engine comes as one of the most dependable WordPress Hosting Platform. In fact, WP Engine is a well recognized and established name in WordPress Hosting. With WP Engine, you get a fully managed WordPress Hosting Platform. There are not one but numerous highlights of WP Engine that makes it a leader in Managed WordPress Hosting. It provides such a WordPress Hosting architecture which is capable of delivering you the fastest WordPress Hosting.
So you can be assured that your site will never go offline. Then WP Engine runs on the EverCache Technology so that your website visitors get to have fastest loading website. You can look forward to expert support. It comes with one click back-up and restores option, as well. It comes with built-in security features so that you can have absolute peace of mind as far as your website performance, and security is concerned. You may find the pricing of WP Engine a bit on the higher side, however, if you are really serious for your website optimum performance then the WP Engine pricing will certainly not pinch you.

Synthesis is another excellent WordPress Hosting Provider. So if you are looking for a superfast and secure web hosting for your WordPress site then Synthesis WordPress Hosting Platform can really be a superb choice for you. In fact, Synthesis is recognized world over as a trusted managed WordPress hosting provider.
Synthesis provides one of the most optimized, powerful and advanced servers so that you get to have best performance and security for your WordPress site. Synthesis has the superior and the efficient NGINX architecture which helps to deliver optimum performance in terms of uptime and page load time for your WordPress website.
Moreover, Synthesis provides smart security measures so that your website can handle any security threat. The result being that your WordPress site is up and running all the time. On the support front, you can readily look forward to an enhanced, prompt and excellent support from the Synthesis team. So if you face any issues with your website hosting, be assured that it will be addressed quickly to your satisfaction.
If you are really serious for your WordPress Website Hosting and look forward to a superior and optimized performance for your WordPress Website then SiteGround is one such powerful WordPress Hosting solution that can address all the performance related issues plaguing your website. Simply speaking, SiteGround outshines other WordPress Hosting Providers and provides you with superior WordPress Hosting. Its sole objective is to enhance the performance of your WordPress website.
Moreover, WordPress Hosting Plans from SiteGround start at an affordable pricing, and that's a big plus for many webmasters who although serious about their online presence have little budget for hosting their WordPress Site. On the technology front, SiteGround is simply superb, and you need not worry about any security or performance related problems for your website. With SiteGround managing your site, you can surely look upto almost 100% uptime for your website with superfast page load speed. SiteGround provides shared hosting, cloud hosting solutions, as well as dedicated servers.
On the support front, its WordPress staff assists you in all your WordPress related issues. You can get amazing speed for your WordPress website with SiteGround WordPress Hosting Platform. It also includes other hosting features such as domain name registration, email services, and much more.

4. WPWebHost
WPWebHost is another very popular WordPress Hosting provider. Its fully optimized WordPress Hosting Server is highly powerful and delivers as much as 99% uptime. With WPWebHost, you can be sure of having a fast, secured, reliable, and scalable WordPress website. Moreover, it offers various affordable web hosting plans that have been tailor made to suit your specific web hosting requirements. You can take the services of WPWebHost for hosting your WordPress website with as low as $4.95/month. It provides Shared Hosting, VPS Hosting as well as Dedicated Hosting Services.
With WPWebHost, you can look forward to maximum performance for your WordPress powered websites. It utilizes CloudLinux, so even in shared hosting environment you can expect your website to be up and running at all times. Moreover, with every WPWebHost WordPress Hosting Package Sign Up you get to have free lifetime domain worth $14.95/year. Plus, WPWebHost offers you with a collection of carefully selected free and high quality WordPress Themes and Plugins. Its support team consists of WordPress experts and enthusiasts, who are dedicated towards solving any of your hosting issues. Plus you can look forward to some WordPress specific services like installation, plugin and theme issues.
Pagely is a well known WordPress Hosting Platform. If you want your WordPress site to load faster and look forward for a more secured WordPress website, then Pagely WordPress Hosting Provider comes as a dependable solution for you. Pagely is suitable for hosting all kinds of WordPress sites, whether big or small. Pagely is the first Managed WordPress Hosting Service. Pagely technical architecture aptly handles all of the technical stuff like upgrades security and performance related issues related with your website.
Pagely can be used to handle and host multiple WordPress websites from personal sites to multi-server clusters for enterprise and all other types of WordPress websites. Its architecture has been powered by world famous cloud computing platform of Amazon Web Service so you can look upto best in class performance for your website, security, scalability as well as support. Moreover, Pagely has continually evolved to meet the demands for an optimized website performance, WordPress security, and as well as expert support.

6. DreamPress
If you are looking for optimized performance and maximum security for your WordPress website, then you can surely look upto DreamPress WordPress Installation. DreamPress provides highly tuned and scalable servers, which are highly equipped to meet any sort of WordPress Installation such as small or big WordPress websites. With DreamPress, you can easily enhance the performance of your WordPress website. It has been empowered with quite an awful set of features. Using DreamPress you can look forward to tuned server, unmatched VPS automation, WordPress configuration, which enables you to have superior response, high scalability, and peak performance for your WordPress site. With DreamPress, you can be assured of complete peace of mind as your WordPress websites are up and running always in a secured environment.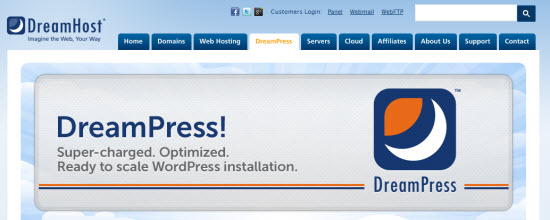 Bluehost is a well known name in the sphere of web hosting, particularly for WordPress powered websites. The popularity of Bluehost spans across the globe, with Bluehost powering over 2 million websites worldwide. The best thing about Bluehost is that its web hosting plans start at a reasonable price of $4.95/month. What you get is unlimited domain hosting, unlimited hosting space, unlimited file transfer, unlimited email accounts, free domain name, free instant set-up, and much more.
With Bluehost, you get an unbeatable technology powering your WordPress Hosting requirements. Bluehost software and hardware are designed in-house and are the best in the industry. As far as support is concerned, the Bluehost experts are there for you 24/7 providing real solutions and advice.
So if you are looking for a complete hosting solution for your WordPress website, then Bluehost Hosting Platform can be the right solution for you. Bluehost has tailor made solutions cater to your varied WordPress Hosting needs. Bluehost provides varied hosting products such as shared hosting, vps hosting, dedicated hosting, and as well as reseller hosting.