Having a successful website means that you are running a strong marketing channel that is capable of bringing in new customers for you on a daily basis. And that is even necessary for restaurant, café, bar or pub business as well. Yes, having a Restaurant Website at your disposal gives you the opportunity to have the best and the most cost efficient marketing tool which you can utilize fully to your advantage to build your business image and increase your sales exponentially.
You can also be a part of this new online revolution by having a beautiful, feature rich and powerful restaurant website that will greatly help to boost your business on the whole. And surprisingly all this is easy to manage and also would not cost you thousands of $$$ (dollars).
Yes, by using MyRestaurantTheme, the premiere restaurant website template for WordPress, you can create and run a beautiful, feature packed, powerful, successful, easy to manage and affordable restaurant website for your restaurant, café, bar or pub business.
There are more than one reason why you would love to use MyRestaurantTheme for creating and managing your restaurant website. MyRestaurantTheme incorporates all the necessary and specific needs of the modern day restaurant business. You would get all the features of a restaurant website in MyRestaurantTheme.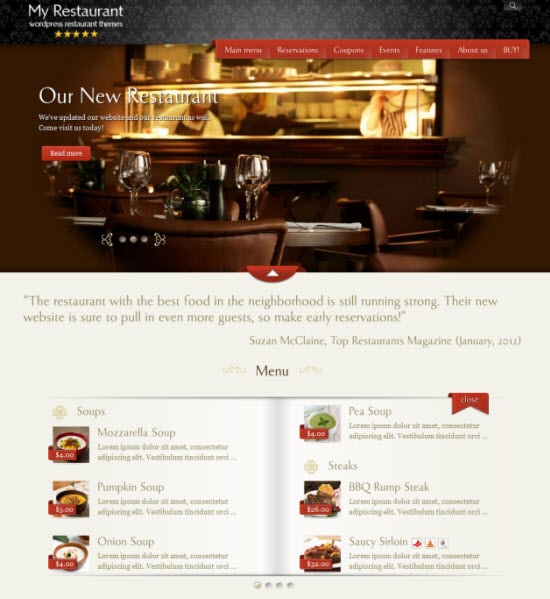 Moreover with MyRestaurantTheme you can quickly and easily build your restaurant website to exactly portray the image of your business concept and details as well. You simply need to upload your logo, choose your favorite restaurant theme template and select layout and color settings combinations. And that's all you need to do.
Plus it is very much affordable as compared to getting the website designed and programmed by spending several thousand dollars whereas MyRestaurantTheme can be had for only a fraction of a cost. It comes with two purchase options. You can either go for a hosted restaurant website service at $34 per month or else can get the MyRestaurantTheme for $149 only for your WordPress based site.
Also you can be rest assured of full service and customer support from MyRestaurantTheme team.
Now let me put before you some of its important and unique features so as to bring out its capabilities and advantages. It comes with 4 professionally styled themes namely Classic Theme, Asian Theme, Country Theme and Modern Theme, unlimited layout and color variations and built-in image gallery system. You can run an efficient online ordering system which lets you have a secured payment method, short check-out process, a well designed shopping cart and integrated menu card system as well.
It gives you the facility of choosing from unlimited menu cards options with unlimited categories. You can even have an effective coupon system, gives you the choice to operate a reservation system, do event management and social networking as well. It gives you access for full and advance customization using which you can customize every aspect of your restaurant site.
Another important feature of MyRestaurantTheme is that it comes with a mobile optimized version. So it enables the users to browse your restaurant site on the go with their Smartphones.
On the whole, MyRestaurantTheme can be your ultimate choice for creating and running a beautiful, feature rich website for your restaurant, café, bar or pub. It provides you with one of the most affordable ways to give your restaurant the website it rightly deserves. Surely MyRestaurantTheme is the Ultimate Restaurant Website Theme.