If you are running a photography website, then you can't just afford to miss out the Photocrati Theme. It is one of the best and amongst the most popular photography WordPress Theme available in the market. Photocrati is amazingly powerful WordPress Theme and is already being used by more than 12000 photographers and visual artists.
Photocrati brings in an all-in-one solution with website, galleries and blogs as well. It provides lots of photography functionalities in its theme together with fabulous gallery management, great customization options and powerful blogging facilities.
Photocrati WordPress Theme comes with 60 ready-to-use website styles so that you can go live over the internet instantly. So in a way you get to have 60 WordPress photography themes in a single package. Photocrati provides 15 varied preset theme styles each of which can be paired with four different gallery styles to produce beautiful layouts for your photography website(s).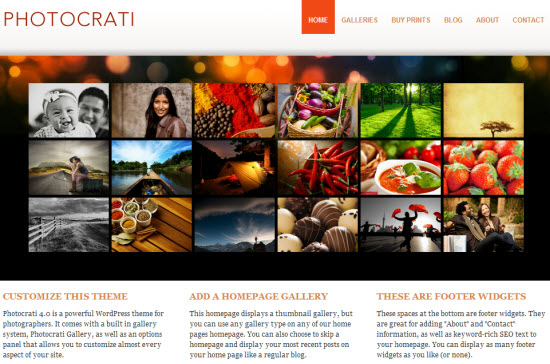 It is the only WordPress Photography Theme to have built-in e-commerce. It is supplied with a plugin for e-commerce which would help you to sell your prints online. So you can set up a shopping cart system to execute a fully functioning e-commerce through Photocrati WordPress Theme. You just need to configure the images as products.
The Photocrati WordPress Theme also comes with a powerful theme options panel so that you have complete control over the different aspects of the theme. You can apply or change different features of the theme such as layouts, backgrounds, logos, fonts and headings, colors, social media and many other features as well. Another feature which you get to see in Photocrati theme is its feature of customized length.
Photocrati offers another fantastic feature as it has the ability to crop thumbnails according to the aspect ratio. With this feature you can create different and interesting gallery layouts together with the facility to display your portrait and landscape image thumbnails side by side. It has been endowed with the Gallery Management of NextGen.
Photocrati also provides you with all-in-one setting which includes website, galleries, store and blog all in one theme without the need of an additional plugin. It is iPhone and iPad compatible and has strong copyright protection too. Another significant aspect of Photocrati is that it is a SEO friendly WordPress Theme.
So if you desire to build a powerful, feature-rich, popular and interesting photography website then using Photocrati WordPress Theme can surely prove very advantageous and beneficial for you.